The Best Racks, Hangers, and Boxes to Organize Your Closet
As recommended by a home organization expert.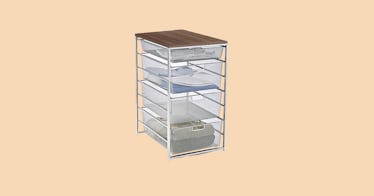 The math is simple: An organized closet equals a less chaotic morning. As such, there's never been a better time to organize your closet than right now, back to school season, when mornings are a mad dash and the last thing you have time to worry about was, hey, where the hell did I put my watch?
To help you get control of your closet we turned to Samantha Tobia, an organizational guru and the owner of Demessify Home Organizing. She's recommended a variety of storage solutions to help get men's closets of any size under control. From storage boxes and back-of-the-closet systems that corral your accessories to hangers that help your pants stay crease-less and, most importantly, off the floor, here are some simple closet organization systems to ensure your closet is free of chaos.
Sonynee Foldable Cloth Storage Boxes
These versatile cloth cubes are perfect to store items between seasons on the shelves of your closet, or to create separate stations for items you might use every day. Tobia suggests sorting your underwear, socks, briefs, hats, and other daily items into each. Then you know how much space you have for each item and you can access them simply. Each set contains six boxes (two small, two medium, and two large)
Container Store Platinum elfa Mesh Closet Drawers
The easiest way to get that custom closet feel, per Tobia, is via this storage system. The unit has three large and one small wire mesh drawers that you can use to store such non-everyday items as small accessories (the tight wire weave means things won't fall out) to sports clothing. It's made from steel so it's durable and the large wooden top gives you another place to store stuff.
Whitmor Over-The-Door Shoe Rack
This rack installs simply, can handle up to 36 pairs of shoes, and has the ability to fit boots by simply flipping one of the bars up. Each of the storage surfaces is covered in a non-slip coating to ensure that your loafers don't free fall when you open your closet door.
The Longstem Men's Organizer
One of the problems Tobia notices is that most of her clients, well, have a lot of crap. That's why she recommends this over the door-hanging organizer. It's easy to access and has 43 different hooks on which you can sling ties, belts, hats, watches, and anything else you need to store. On top of that there is one long shelf to stash sunglasses, and five different compartments into which you can put wallets, passports, and other such items.
Container Store Premium Walnut Wooden Hangers
A key to an organized closet is having the right hangers to treat your clothes properly. These walnut hangers will protect your clothing by preventing creases in your shirts and pants; plus, their pivoting head mans you can easily ensure all of your clothing faces the right direction.
Container Store Superior Wooded Coat & Suit Hangers
Your coats and suits are an investment and should be treated as such. The larger rolled arms of these heavy-duty walnut hangers will protect your outerwear and they can easily handle an entire suit on one of them, freeing up space. The neck hooks also swivel to ensure everything is lined up nicely too.