This $37,500 Cinderella Castle Costs More than a Tesla
So let's say you're sitting on a pile of cash and don't know how to spend it ...
by Donna Freydkin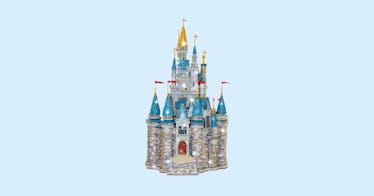 You can blow $37,500 on a Tesla Model 3. Or a used Airstream trailer. But if you're sitting on that very pile of cash and are unsure about where to spend it, we have option three: Disney's limited-edited Cinderella castle, bedecked with 28,255 Swarovski crystals.
Of course, you might scoff that this is a batshit-crazy amount of money to throw down for a collectible. One that's far too fragile for fairytale-loving kids to play with. You wouldn't be wrong. And of course, you could donate that money to help the victims of Australia's wildfires, or Nashville's recent tornadoes, or to Planned Parenthood.
But. But.
How absolutely decadent (or decadently stupid) would it be to own this fully-sculpted Cinderella castle, made and painted by hand. It's encrusted with 28,255 Swarovski crystals because there's no such thing as too much glitter. It comes in its own metal case. The dimensions are 20 x 11 x 12 1/2 inches. Only 50 were made, so don't wait until the clock strikes midnight.
This comes at you courtesy of Spanish glassblowers Tomas and Alfonso Arribas, who began selling their wares in 1967 inside the Sleeping Beauty Castle at Disneyland. Today, you can find their stuff at 19 theme parks. Which brings us to the limited edition Cinderella Castle by Arribas Brothers. All snark aside, the level of detail is pretty astounding, from the fluttery red flags to the shiny blue roofs.
And might we add that the timing couldn't more perfect. Disney has began filming its live-action remake of Cinderella, which is due to release in 2021. The Fairy Godmother's character is played by Billy Porter. The new adaptation is "a classic fairytale for a new generation, " and will be a "genderless" character.
Every product on Fatherly is independently selected by our editors, writers, and experts. If you click a link on our site and buy something, we may earn an affiliate commission.
This article was originally published on