The LEGO Batmobile Makes Its Debut At The Detroit Auto Show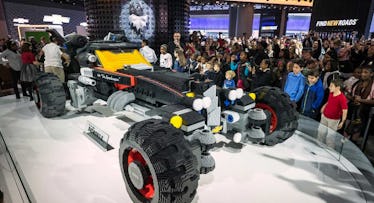 Chevrolet
Your kid loves LEGOs almost as much as they love Batman. So when the caped crusader goes plastic, they really lose their mind. Chevrolet knows this. And with The LEGO Batman Movie coming to theaters this February (with the Masked Vigilante voiced by renowned chicken impressionist Will Arnett) the iconic brand unveiled a life-sized LEGO Batmobile at the Detroit Auto Show. The car's made entirely out of the blocks — because sometimes we get the Batmobile we need instead of the one we deserve.
Recreating the Dark Knight's vehicle took builders more than 1800 hours to put the 300,000 LEGO blocks together (50 less than you've stepped on since becoming a dad). The LEGO Batmobile is 17-feet long, weighs more than 1,700 pounds and is equipped with Wi-Fi and bulletproof windows. Sadly, it doesn't have any grappling hooks or shark repellent bat spray.
After seeing the brick Batmobile, your kid may beg you to exchange your Kia Sportage for it. But on Chevy's website, they list the car at $48 million. For that kind of money, you could just buy a few dealerships. Fortunately, you can still embody the spirit of Batman the cheap way: By squeezing into some tights, slapping on a black codpiece, and hiding from your family in your secret cave under the house.
[H/T Car & Driver]