The Only 5 Kitchen Knives Dads Need, According to an Award-Winning Chef
You'll be the master of your kitchen. Or grill.
by Donna Freydkin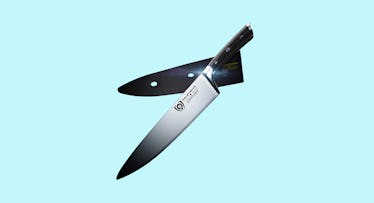 A kitchen without quality cooking knives is a Manchester City squad without Pep Guardiola. With the proper blade in hand, you're capable of spatchcocking a chicken, slicing a pristine salmon filet, and transforming a fridge full of vegetables into a perfect mirepoix. The best cooking knives, in other words, make all the difference between a feast, and a culinary flop.
Now, you don't really need a full 18-piece knife set, although you can definitely opt to get one of those. A few well-selected blades are all you need to conquer every task. But which kitchen knives are the most essential? For that we spoke to Michael Lomonaco, a man who certainly knows his way around sharpened steel. Currently the chef and owner of New York's Porter House, Lomonaco also ran the kitchens at such notable eateries as 21, Windows on the World, and Guastavino's.
Types of Cooking Knives
Before you buy any blade, it's essential to do your homework. "You need to pay attention to the quality of the steel. And make sure the blade goes through the handle. That's called a full tang and adds tensile strength," says Lomonaco.
Also: Don't skimp. You're investing in what's more or less a weapon and cheap doesn't cut it. Literally. "You need to invest money in your knives," says Lomonaco. "They will last for decades."
The shape and style of a blade, of course matters. Wider blades, for instance, are great for handling vegetables and fruits. Narrower blades, meanwhile, are meant for thicker proteins, as opposed to rapid-fire chopping.
It's also important to understand some finer points of knife buying. You can buy a knife that's either forged or stamped. Forged knifes cost more because they're made from a single piece of steel, and thus, last longer. Stamped knives, meanwhile, aren't as sturdy and are less expensive, but are good options for the casual cook. As for handles — be it wood, bone, or stainless steel — that's merely a matter of preference.
With Lomonaco's advice, here the kinds of kitchen knives that should be in every kitchen — as well as our picks that fit his criteria.
10-Inch Chef's Knife
There is no tool more important to a cook than a proper chef's knife. It is an extension of a chef's hand, with a broad, curved blade meant to rock back and forth for such tasks as mincing, chopping, and dicing, and a sharp tip meant for everything from finer, more delicate work to quartering a chicken.
"The 10-inch is the classic knife we get when we start cooking. It's a large knife and it's perfect for chopping up large volumes of vegetables. It's an all-purpose utility knife." says Lomonaco.
Lomonaco likes German brands, like Henkels and Zwilling. As for handles, find one that feels good to you and just make sure the blade is full tang, for reasons stated earlier.
If you want a true investment piece, and don't mind paying more, this beauty will never let you down.
6-inch Utility Knife
Like its name indicates, the utility knife is your workhorse. You pull it out for jobs that are too small for a chef's knife, but too big for a paring knife. The blade is long enough to make slicing herbs and cutting carrots easy and fast. Try to pick a blade that's about six inches long, as that's the optimal size, per Lomonaco.
As with the chef's knife, this is another indispensable tool for cooks. "You need a six-inch utility knife. You use it for filleting fish. It has a wide range of uses. It's small and thin. You can use it to portion out food," says Lomonaco.
Santoku Knife
This is a general all-purpose kitchen knife that originated in Japan and has a slightly curved blade. In fact, the knife's name means "three virtues" and that directly explains what it's used for: chopping, dicing, and mincing.
"I particularly like these, and they can be five or six inches. It's lighter than a chef's knife and it's for dicing vegetables. onions, garlic, celery — whatever vegetable you might think of — it's great for slicing. The blade is thin and it has a hollow edge. It's not as heavy and it does finer work," says Lomonaco.
Bread Knife
The serrated edge of a bread knife makes it ideal for cleanly sawing bagels and crispy country loafs, sure. But it's also great for slicing softer, more delicate fruits like tomatoes without making your cutting board look like a murder scene.
"You may not use it with every meal, but when you need a bread knife, you need nothing but a bread knife," says Lomonaco.
Paring Knife
The paring knife is a small, short-bladed tool, usually three or four inches, and is used for peeling, coring, and dicing. It's absolutely necessary, per Lomonaco, for precision work.
Bonus: A Knife Sharpener
A dull knife is the most dangerous thing in the kitchen. Why? Because you need to apply way more pressure to cut through something, thereby boosting the chances that the knife will chop your pinkie along with those shallots.
Lomonaco doesn't mince words about the dangers of subpar knives. And it's why he stresses that everyone must, absolutely, own a knife sharpener. No, not the long steel rod that comes with a knife set. That's called honing steel, and is used to restore, not sharpen, a blade's edge.
The best way to sharpen a kitchen knife at home, per Lomonaco, is by using a stone. "They're worth the investment. They come with a coarse stone for getting the edge right and the fine stone second," says Lomonaco.
Every product on Fatherly is independently selected by our editors, writers, and experts. If you click a link on our site and buy something, we may earn an affiliate commission.