The Chef IQ Is the Smartest Kitchen Appliance For Parents
Consider it a souped-up Instant Pot. And, oh yeah, it weighs your ingredients.
by Donna Freydkin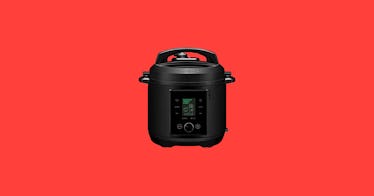 The WiFi-enabled Chef IQ smart cooker has arrived to dethrone the Instant Pot. It's a souped-up pressure cooker with a built-in scale, a feature you won't realize you've needed until you realize how much you needed it. And this multi-cooker's WiFi functionality isn't a gimmick: It actually simplifies and streamlines the cooking experience. That's the entire point, especially when so many working parents are throwing together three or more meals a day for kids now home 24/7.
Listen, the Instant Pot is great. And, to be clear, the Chef IQ has fewer functionalities than that oh-so-popular appliance. It doesn't make yogurt or porridge (but seriously, did you ever make either?). But what it does, it does better than any other multi-cooker I've ever used, and it does so while standing lean and mean on your kitchen counter.
Looking like a droid that moonlights for the Dark Side or an Instant Pot that became sentient, the Chef IQ is about the size of a standard pressure cooker. It has integrated smart sensors, automatic pressure release, capacitive touch buttons, and a nice LCD screen to tell you what's what. There are 100 preset cooking functions, and you can cook, sear, sauté, steam, and warm everything from chili to chicken piccata to steel-cut oatmeal. And yes, it connects to your WiFi. But don't hold that against it. In fact, that's a big plus.
To start, you download the app and pair it with the cooker. And then, you figure out what you want to make. The app works hand-in-oven-mitt with the cooker to guide you through the process.
So, let's talk garlic mashed potatoes, which I made this weekend. Normally, in ye olden days, I'd peel the potatoes, dice them, fill up a pot with salted water, put in the taters, wait for the whole damn thing to boil, watch the water boil over because of course it always does, and at some point, after repeated piercing with a fork, the potatoes seem cooked and soft enough to mash. This takes hours. It takes effort. It's an insane amount of clean-up.
With the Chef IQ, I picked the garlic mash recipe on the app. The built-in scale guided me to add two pounds of diced, peeled potatoes into the cooker, along with the commensurate amount of water and butter (sadly, you still have to peel the potatoes yourself). I followed the on-screen directions on my phone (you can also use the guide on the machine itself) and started the pressure cooking process. When it was about to release steam, the app sent me a notification that shit was gonna blow and I needed to move out of the way. Roughly 12 minutes later, I had pillowy mashed potatoes and exactly one thing (the 6-quart pot) to clean up.
The scale is what makes the difference here. Until I used the Chef IQ to make the chicken noodle soup that went with the potatoes, I had no idea just how indispensable it was. When using the Instant Pot, I sort of used measuring cups to sort out ingredients, but ultimately, it was guesswork. And guesswork doesn't really lend itself to impeccable dinners; neither does eyeballing ingredients. More often than not, the end result was sloppy. The Chef IQ's scale, however, is totally precise and you know exactly how much water, cream, butter, carrots, or noodles to add to the pot and when.
Plus, the app, which the brand continuously updates with more recipes, is pretty solid and isn't an extraneous addition simply there to make something seem cooler. Another example: We watched Ratatouille the other night. So I set out to make some of the titular dish. This French staple is deceptively difficult to cook and calls for a slew of ingredients, including diced bell peppers, sliced zucchini, and cherry tomatoes. But the app, which uses video, takes you through the entire process, from adding the olive oil to sautéing the vegetables to cooking the entire thing. It made me feel like a better cook.
Will the Chef IQ revolutionize the culinary world? Who knows. But will it make your life that much easier when you're scrambling to throw some food on the table? It did for me. I'd wager it'd do the same for you.
Every product on Fatherly is independently selected by our editors, writers, and experts. If you click a link on our site and buy something, we may earn an affiliate commission.
This article was originally published on