The Rear-Facing Car Seat Hack All Parents Need to Know
Worried you're installing your rear-facing car seat wrong? You might need a noodle.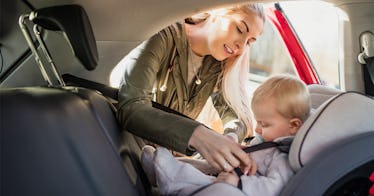 Car seat safety should be the number one biggest concern for most parents, but a huge chunk of parents are still installing their car seats wrong. One of the most common mistakes: Not securing the seat tightly enough. This can be tricky for owners of convertible car seats that switch between front- and rear-facing. But when it comes to making sure a rear-facing car seat is in tight, there's one unlikely ally parents have: the pool noodle.
There are actually two pool noodle tricks to ensure your car seat is tight. If you Google "car seat pool noodle" you'll encounter a helpful video from the Car Seat Lady where she recommends using about an inch and a half section of the swim toy to secure a floppy buckle with booster seats. It's a neat trick — but probably not the one most new parents need.
The second pool noodle car seat trick, however, is the most useful. If you have a convertible car seat in rear-facing mode, the required incline of the car seat can often create a gap between the vehicle's back seat and the bottom of your car seat. This can cause a very dangerous and worrisome wobble. Some car seat manuals (like that of my Evenflo Stratos) suggest you fix this by using a rolled-up towel to plug the gap. A much better solution: A bundle of pool noodles, cut to the width of the base of your car seat.
Car seat installation experts agree: "With a towel, you still have to roll up, which means it can still be loose, and it may not be tightly rolled. Where a pool noodle already has the proper shape, support, and flexible to use," says Robert "Bob" Libby, a CPST Instructor, of Safe Kids Maine and a member of the South Portland Police Department. Libby doesn't want to give the impression that you can always use a noodle, just that in many situations they are preferable to towels.
Of course, this doesn't mean you should start shoving pool noodles anywhere. In fact, some car seat manufacturers — like Chicco, Diono and Clek — say you can't use a noodle. This is why reading the manual that came with your car seat is a paramount and essential first step to car seat safety. "Also, reading manuals and understanding when to use the LATCH system in a vehicle is very important. A majority of car seats installed with LATCH are improperly installed. Overall, seven to nine out of ten car seats checked by a technician are installed incorrectly," advises Libby.
Libby has inspected and helped me install my car seat twice. And in both cases, he's used a clutch of cut-up pool noodles to make sure my rear-facing seat was secured tightly in the center part of the back seat of my 2009 Subaru Forester.
Libby knows it's difficult to install a car seat because he's been trained by the National Child Passenger Safety Certification program. He picked up the pool noodle trick in that training.
When you see the pool noodles bundled together, it looks strange — sort of like a pack of dynamite Wile E. Coyote might chuck over the edge of a cliff. But, this DIY safety method is one of the most responsible things you can do if you're concerned about a gap and wobble. Assuming, of course, your car seat allows for it.
Libby also thinks that people should bring their car seats for inspection to a locally sponsored car seat inspection events in their area. These events have certified technicians to assist and educate that person on the proper installation. If a person does go to a police station or fire station to have their car seats checked, make sure that the officer or firefighter is a currently certified child passenger safety technician."But make sure your technician is currently certified," he stresses. "Make sure they haven't just taken the class one time in their career."
The reason? The every two-year certifications these techs are required to take prevents gaps in their knowledge. Gaps that can, for now, be filled with a pool noodle.
Here's a complete guide to car seat safety from The National Highway Traffic Safety Administration.