Yes, Car Seats Expire. Here's What Car Seat Expiration Dates Really Mean.
A lot can happen in 6 to 10 years.
by Emily Kelleher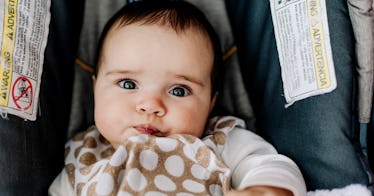 Car seats are one of the biggest and most important investments new parents will make — big in terms of financial investment, but more importantly because they can be life-saving in the event of a car crash. The good news is, they're a one-time investment. Or are they? Turns out that car seats, much like Tylenol, milk, and other parenting mainstays, have expiration dates. While they won't spoil in the same way that milk will, they also don't last forever, and it's important to know just when your car seat expiration date is.
Why Do Car Seats Expire?
How can a piece of plastic, metal, and fabric expire? safetyMost manufacturers give their car seats expiration dates of 6 to 10 years after they're made, at which point a car seat could, at best, have outdated technology, and at worst, no longer meet the safety standards of the seats on the market. The industry is fast-moving and really evolving all the time," Dunn says. For example, recent years have seen new innovations in side impact protection that older seats lack.
Where Is the Expiration Date?
f the car seat is expired, you should not be using it. Replace it right away," says
Gina P. Duchossois, an injury prevention expert with the Injury Prevention Program at Children's Hospital of Philadelphia and Chair of Safe Kids Southeastern Pennsylvania. In fact, Duchossois goes so far as to suggest that parents cut the straps of an expired car seat and dispose of it in a dark plastic bag so that nobody takes it out of the garbage and uses it.
Is It OK to Use an Expired Car Seat?
amage can occur to seats that we can't see with the naked eye," Dunn says. ome parents or caregivers, when they determine that their seat is expired, may not be able to run out and purchase a brand-new one," Dunn says. "A secondhand seat from a trusted source that knows the history is an option." registry of recallschecklistt's important," says Dunn, "that kids are riding in any seat versus no seat at all."