Bustin' Makes Us Feel Good! The Best 'Ghostbusters' Stuff Money Can Buy
Choose the form of the thing that will drain your bank account.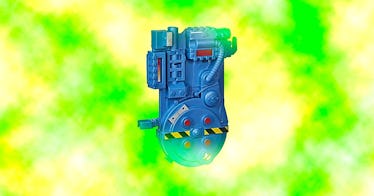 Whether it's the good buzz for the new film Ghostbusters: Afterlife, or the undying love for the classic 1984 flick, and even our '80s kids obsession with the classic cartoon, Ghostbusters never goes out of style. If you're looking for a gift for someone who even likes Ghostbusters a little bit, you can't go wrong with some toys, clothes, gear or books.
From toys for the little busters to gifts for the big busters, here's a selection of the best Ghostbusters swag out there right now. Go ahead, you've earned it.
Retro Ghostbusters Toys
GhostbustersThe Real GhostbustersthatReal Ghostbustersexactly like the ones you had when you were a kid. Check it out!
2021 Ghostbusters Action Figures and Toy Vehicles
The newer toys that are out right now are also not the worst and seem to honor the classic movie versions of the Ghostbusters. And yet, these toys are clearly still for kids, which is a great way of sharing some Buster love with the whole family.
Ghostbusters Gear
Regardless of age, no Buster fan should be without some gear.
Ghostbusters Clothes
From classics to deep cuts, here are some GB clothes we would actually wear.
Ghostbusters Music
Ghostbusters Books
Every product on Fatherly is independently selected by our editors, writers, and experts. If you click a link on our site and buy something, we may earn an affiliate commission.