Best Bug Zappers
Stop the bastards before they bite you.
by Donna Freydkin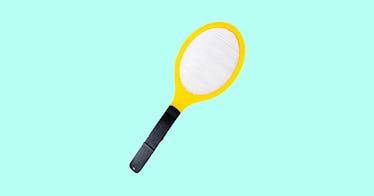 Mosquitos have been called the world's deadliest animal by none other than Bill Gates. And that's just one reason you need a bug zapper, to keep mosquitos away when you're sipping a beer outside.
Mosquitos carry brutal diseases, including malaria, dengue fever, yellow fever, and encephalitis. More locally, they can spread Zika and West Nile Virus. Plus, mosquito bites just suck, quite literally.
If you'd rather not douse yourself or your kids with bug spray while sitting in your backyard, you need to invest in a bug zapper worthy of the job. While no bug zapper is foolproof, some work better than others at attracting and killing the biting beasts. These are some of the highest-rated ones on Amazon.
Pros: This battery-operated racket kills bugs on contact. It has one layer so it's easy to clean and no gross bugs get trapped inside it. And it's chemical-free.
Cons: If you have kids, make sure they realize this is not an actual tennis racket toy.
Pros: This lantern kills mosquitos by attracting them and zapping them via a UV light and an electrified grid. The Octenol is a chemical that also helps lure them in. It covers one acre and is for outdoor use only.
Cons: You do need to buy refills for it, if you want it to work at its full capacity.
Pros: We like the plastic grid covering this zapper, to stop any curious kids from reaching inside. And the weatherproof bug zapper can be used both indoors and outdoors.
Cons: The cord is very short, so make sure you have access to an outlet.
Pros: Use this plug-in bug zapper in kitchens or bathrooms. It's totally chemical-free and great for smaller spaces.
Cons: Cleaning it is a pain. You remove the lid and clean the mosquitoes out.
Pros: Designed for indoor use only, this bug zapper is easy to clean. You just slide out the tray and empty it out.
Cons: You need to replace the UV bulbs.
Pros: This bug zapper covers a whopping two acres of outdoor space and attracts all manner of flying bugs. It's powerful enough to work near dumpsters, so imagine what it will do in your yard. It mounts vertically or horizontally, and has a removable tray for cleaning.
Cons: You do need to buy the Flowtron BF-130 replacement bulbs and they burn out pretty fast.
Every product on Fatherly is independently selected by our editors, writers, and experts. If you click a link on our site and buy something, we may earn an affiliate commission.