You Need Britney's Insane Peacock Float In Your Pool
It's seven feet of fabulousness.
by Donna Freydkin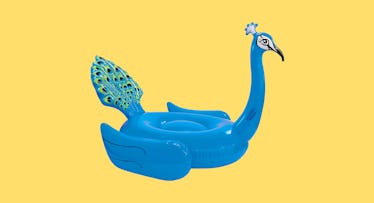 Britney Spears is to drama what Cersei Lannister is to brotherly love. The two go hand in hand.
That being said, the beleaguered singer knows how to live the good life, especially when it comes to her pool. And if you need any further proof, here's a recent Instagram post of her lounging on what we must say could be the world's greatest peacock pool float.
As the intrepid investigators we pride ourselves on being, we had to dig a little and yes, we found the very same pool float. Guess what? Britney's a budget shopper! Like you and me, she won't spend a mortgage payment on pool entertainment.
You too can have her pool float for less than $20.
This massive floating peacock is made of heavy-duty vinyl. And while we absolutely love its stunning plumage and bold colors, we understand that not everyone is a fan of this bird. In which case, the company also makes giant flamingo floats, and if you're so inclined, a cockroach float.
Bring on summer!