Bose Makes A DIY Bluetooth Speaker That Your Kid Can Build In An Hour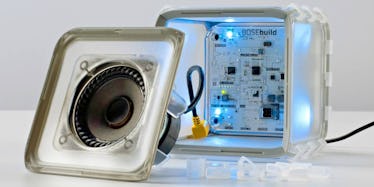 Not everybody sees the value in making something from scratch that they can just as easily buy in a store. That time you tried to make your own Roomba by taping a Dustbuster to the cat was kind of a disaster. But you also know that DIYing develops valuable new skills for kids. It's time to put them to work, and the BOSEBuild Bluetooth speaker kit is exactly the kind of project to get them amped about electronics. (Don't say it that way or they'll be liable to quit before they start.)
MORE: The Best Portable Bluetooth Speakers That Bring the Party Anywhere
Apparently making a speaker isn't nearly as hard as Best Buy might have you believe. According to the instructions, an 8-year-old should have it put together in about an hour. The BOSEBuild Speaker Cube will provide the handful of provided cables, connectors, and 4.75 x 4.75-inch, high-performance plastic cube — you provide the tunes. No soldering or tools are required, which means that neither are you. And as they run through 15 fun, step-by-step activities on the included iOS smartphone app, they'll unwittingly learn about the science of sound; everything from magnets (how do those work?), to frequency, to waveforms. Sadly, the BOSEBuild Speaker Cube will never unlock the mystery of why your children prefer Kidz Bop to Led Zeppelin.
The BOSEbuild Speaker Cube can also be customized with silhouette covers and colored LEDs that dance to the music and reflect your kid's individual creativity – and that stuff can't be bought in a store.
Ages: 8+
Want tips, tricks, and advice that you'll actually use? Click here to sign up for our email.
This article was originally published on