The Best Body Sprays for Men That Aren't Axe
If you think these sprays are leftovers from the 90s think again.
by Donna Freydkin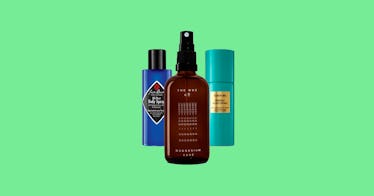 As we slowly emerge from our holes and gently rejoin society, we need to pay more attention to grooming. Because that thrice-weekly shower for Zooms during lockdown won't work when you're meeting friends or cycling into work for an in-person meeting. That holds especially true in warmer weather, when things can get funky real fast. And that's where a spritz or two of a body spray comes in. Don't roll your eyes — a great body spray isn't an olfactory assault on your senses, a la Axe. It's simply a diluted cologne.
A body spray won't replace showering, but in a pinch, it's a fine coverup. If you don't have time to hop in the shower and rinse off sweat (which stinks when it mixes with the bacteria on your skin), reach for a spray — a blend of water or alcohol mixed with a small amount of fragrance — and apply it to your clothes or skin. Focus it around your chest, neck, and under the pits. The ones below do their job, without smelling like the fragrance counter at Macy's.
The Best Body Sprays for Daily Use
The Best Fancy Body Spray
The Best Spray for Your Nether Regions
The Best Body Sprays That Are Also Relaxing
The Best Body Spray If You're Fanatical About Ingredients
Every product on Fatherly is independently selected by our editors, writers, and experts. If you click a link on our site and buy something, we may earn an affiliate commission.