This Insulated Travel Mug Is Also A Pour-Over Coffee Brewer
by Dave Baldwin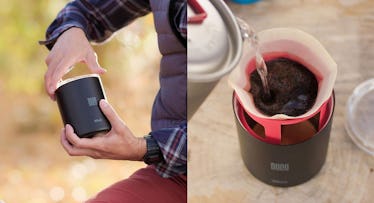 Unless your tent is pitched in the backyard or you've snuck the Keurig into the car, camping usually means settling for a cup of mediocre morning coffee. And one that was probably a pain in the ass to make in the first place. According to a couple of buddies and outdoor enthusiasts from Colorado, however, brewing high-end coffee in the woods (or even at the office if you're not down with the in-house java) doesn't have to be. And to prove it, they unleashed the Boco BRuX.
MORE: The Best Coffee Products And Roasters For Dads
The Boco BRuX is a 20-ounce stainless steel travel mug that brews coffee, and it's so simple you're going to kick yourself for not pitching it on Shark Tank in between driving the kids to rock climbing and piano lessons. Literally, all you do is pull out the retractable plastic brew cone, insert paper filter/favorite coffee grounds, pour in hot water. That's it. Three minutes later you pop the filter out, screw the lid on, and help Junior lace up those hiking boots. No French press for him to break. No mesh filters for you to clean. No bonus coffee grounds in every delicious sip. The Boco BRuX is also vacuum insulated so you're not drinking cold coffee by the Mile-2 trail marker.
The only drawback of the Boco BRuX appears to be that it's already out of stock. Although, not to worry. Email to pre-order, and they'll let you know when the production line starts rolling again. Until then, best make a little extra room in the trunk for that Keurig.