Video Review: The BOB Revolution Pro Stroller
All the pros and cons before you enter your credit card info.
by Dave Baldwin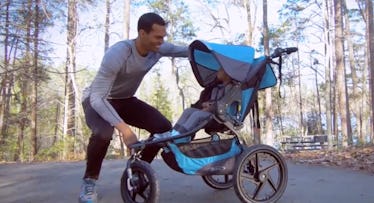 Looking for all of the Best Baby Gear of the Year, from jogging strollers to baby carriers? Check out our Gear section.
You barely need to be a parent, or even a runner for that matter, to recognize the BOB name when it comes to jogging strollers. The "Beast of Burden," as it was originally known (seriously), has become synonymous with hard-edged strollers designed to tackle the toughest of terrain. The new BOB Revolution Pro, with its adjustable handlebar and hand-activated disc brakes, continues that tradition. Here's what customers and online reviewers have to say ⏤ both good and bad⏤ about the latest model.
RELATED: The Best Jogging Strollers
Pros:
The BOB Revolution Pro is "the most technologically advanced piece of workout equipment you'll ever own," says Gear Patrol. "And as comfortable as the stroller was for the jogger, it was even better for the rider. A large canopy to shade the sun, foot rests and a wide padded seat, 2 mesh pockets perfect for a stuffed animal and a sippy cup and reclinable seat back for long jogs (or ones that happen closer to nap time) kept my year-old test pilot happy nearly the whole time."
The BOB Revolution Pro's hand-activated rear drum brake, which was new to the 2015 model, remains a big hit with reviewers on REI.com, as does the adjustable padded handlebar: "We purchased the [Bob Revolution Pro] specifically because of the rare grouping of features on a jogger: The hand brake, adjustable handlebar, and adjustable swivel/fixed front wheel. I researched and found only 2 other brands have all of these features together."
"Easy to remove wheels, and an easy fold-down release makes this as compact as a traditional stroller," concludes one satisfied Amazon customer.
Cons:
The BOB Revolution Pro is heavy and a bit unwieldy. GP says, "At around 25 pounds and 25.5-inches wide from wheel to wheel (wider than most other strollers), it took some maneuvering to get it in and out the trunk."
Reviewers also say that the BOB Revolution Pro's canopy, which doesn't filter UV and is smaller than on previous models, is a weak spot. Notes one REI reviewer: "The only negative change I see in the new version of the BOB Revolution is the canopy room. Our tall 2-year-old's head does hit the bottom of the canopy when not in use." Adds another: "There is not a lot of clearance with the canopy. If your little one is long it could get tight."
And finally, it might be nitpicking but according to at least one Amazon reviewer, the BOB Revolution Pro "does not fully collapse if you have the car seat adapter installed. I have to remove it before folding up and putting it in the truck of the car."
Specifications:
Weight: 30.5lb
Front Wheel Type: Swivel lock
Wheel Dimensions: Rear 16″ x 1.75″, Front 12.5″ x 1.75″
Suspension: Coil spring and elastomer core shock absorbers, with adjustable shock release knobs
Brake: Hand-activated rear drum brake; foot parking brake
Adjustable Handlebar: Yes (34.5 – 48")