The Rambler is a Cheaper Version of BOB's Popular FLEX Jogging Stroller
And despite the name, it is built for real runners.
by Dave Baldwin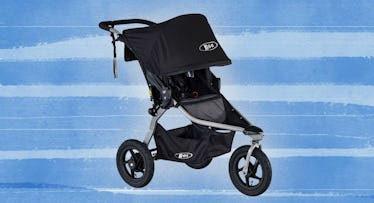 BOB's new jogging stroller may be called the Rambler, but that doesn't mean it's aimed at less-than-serious runners. It's not. This is a jogging stroller for people who intend to go fast, which, according to recent research, is the only way to get a workout while pushing a kid. With a middle-of-the sidewalk price point and clean lines, the Rambler is likely to be a hit when it hits stores in September.
The Rambler is essentially a scaled-down version of the BOB Flex ⏤ one of our Best Jogging Strollers of 2017 ⏤ and is equally ready for the road or trail. Big differences between the two: the new model has three smaller 12-inch air-filled tires as opposed to two (all still removable), 16-inch rear wheels; its padded handlebar does not adjust; and, at $370, the Rambler runs about $80 cheaper.
MORE: The Best Jogging Strollers
As for similarities between the BOB Flex and BOB Rambler, expect the same swivel-locking front wheel with knob-adjusted tracking to refine alignment, mountain-bike suspension with 3-inch clearance, foot-activated rear parking brake, and ability to add an infant car seat adapter. The Rambler also offers both the easy, one-hand/one-button recline (to get that kid prone before their eyes even finish closing) and two-step fold, so you can load it back in the trunk without much effort. It comes only in black with a two-year warranty.
Weight: 25.2 lbs.
Weight Capacity: 8 weeks to 75lbs.Front Wheel Type: Swivel lockWheel Dimensions: 12″ Air-filled tiresSuspension: Coil spring and elastomer core shock absorbers, with adjustable shock release knobsBrake: Foot-activated parking brakeAdjustable Handlebar: No