The Blundstone Original 500 Series Are the Best Damn Boots I've Ever Worn
The original shit-kickers, the Blundstone Classic 500 Series began production in 1870 in Tasmania.
by Doug Schnitzspahn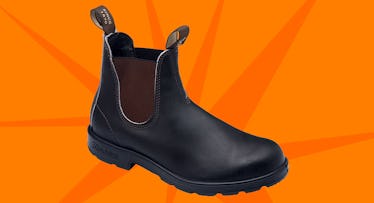 I travel all over the planet and engage in adventures that range from enjoying brunch and a spa in Helsinki to swimming with whale sharks in the Yucatan. Along the way, I test plenty of shoes. I put miles on trail runners. I tromp through mud and scramble up peaks in hiking boots. You might think that means the shoes you are most likely to see me in are some type of hi-tech adventure boot. Wrong. The one shoe that I wear pretty much every day, whether I'm picking up my kids or plunking around some foreign country, originated with Australian sheep shearers: The Blundstone Classic 500s.
The original shit-kickers, these slip-on, sturdy-soled, comfy-upper, do-it-all boots began production in 1870 in Tasmania — designed specifically for the rigors of grabbing sheep, stepping through their muck, and shearing the fleece off them. The company's still based on Australia's outlier island and builds shoes there but, for me, and countless others, at least the pedigree and (dare I say) dyed-in-the-wool field testing makes for some reliable boots. The thick sole may not be the most pliable but it doesn't blow out and the waterproof, oiled leather upper (that fits like a slipper thanks to a perfectly placed and camouflaged elastic patch near the ankle) just breaks in better the more you abuse it.
RELATED: The Best Back-to-School Kids Shoes, Sneakers, and Boots
To note: I have hiked Slickrock in Utah's San Rafael Swell in my Blundstones (note: the brand now makes a wide selection of shoes but by "Blundstones," I'm referring to the Original 500 Series in brown). I have pounded the cobblestones and piloted a Vespa around the streets of Trastevere in Rome. I take my dog on hikes on the gravel paths and trails up behind my house in Boulder, Colorado. I have explored volcanic wonders and danced in packed bars in Reykjavik. I have walked public paths to pick my kids up from school and sat in at elementary school planning meetings. I have traced the movements of one of my ancestors on the Civil War battlefield of Fredericksburg, Virginia. I have sprinted through airports to make a connection. I'm still wearing them.
Add to all that the fact that they dress up fairly well, too, at least for a dirtbag at heart like me. That's essential when you travel — or just lead a busy life. One pair of shoes that can dress up or down make for lighter luggage. Not to mention they have no laces so it's simple to slip them off for airport security lines (or just heading in and out of the house). You won't lose style points wearing them out on a date. I even shined them up and wore them with a suit to my brother-in-law's wedding (it was in Portland, where casual style's a bit more accepted of course). The point, they don't look like you just wandered in off the farm.
But the bottom line? Comfort. I have never worn a shoe that breaks in so well. And when something feels good on your feet — which take so much abuse – why change?
This article was originally published on