This Stuffed Elephant Is Both Adorable and Affordable
Sometimes the best Black Friday deals are the simplest.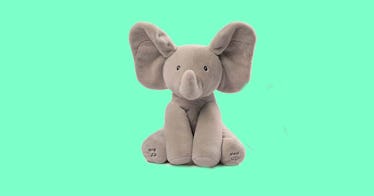 Black Friday typically means massive deals on the biggest products, like TVs, grills, or car seats. And while we would certainly never disparage saving big, sometimes, the best Black Friday deals are the simplest. For example, you can get your kid a Flappy the Elephant push toy that is equal parts adorable and affordable, as the cute as heck creature usually costs $40 but for today only you can buy it for less than $30.
Now that may seem a bit expensive for your run-of-the-mill stuffed animal but anyone familiar with Flappy knows that this elephant is a very special toy that kids absolutely love. Because he's not just soft and huggable, Flappy also has an arsenal of tricks up his sleeve. While your kid is playing with Flappy, he will prove to live up to his name as his ears will flap up and down to show his excitement. He also knows how to play peek-a-boo with kids and will even lead a sing-a-long rendition of 'Do Your Ears Hang Low?'
The combination of extreme cuteness and awesome abilities have quickly made Flappy one of the most popular kid's toys around. He has received nearly 2,000 reviews on Amazon and has still managed to hold onto that coveted five-star rating, with parents raving over and over again about how much their kid loves playing with Flappy.
"Great gift," wrote one enthusiastic user. "I gave my great-granddaughter one for Christmas & it made her happy! Grown-ups love it also! He is so cute!" Hard to argue with that.
This article was originally published on