The Best Bike Racks for Your Car
The right rack carries your gear safely, freeing up space in the car for people. Or snacks.
by Sal Vaglica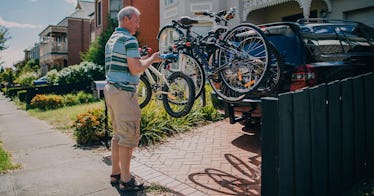 You could MacGyver yourself a DIY bike rack of sorts, by attaching two-wheelers to the roof of your car using wafting twine. This is not a smart idea. Why, you ask? Because no amount of knot-tying pyrotechnics will best the laws of aerodynamics. A bike rack can haul your gear securely, so you can focus more on driving and less on worrying if your kid's Schwinn fell off somewhere a few exits back. The best bike racks for your car should fit properly, let you securely transport the bikes from point A to point B, and do so without setting you back a mortgage payment.
Shopping for a bike rack can be confusing and intimidating. When it comes to strapping a bike to a rack, that system attaches to your car in one of three ways: It can be bolted onto the roof, strapped to the trunk, or slipped into a hitch.
Picking the right one depends on your budget, the make and model of your car, how many bikes you're bringing, and what kinds of bikes they are. You can spend less than $100 or eight times as much on a rack. While hitch and trunk racks fit a wide range of vehicles, roof-mounted versions tend to be more specific to a car or truck's make and model, so you'll need to know both. Not all rack styles carry the same number of bikes, and if you have a non-standard bike frame—like a child's, fat tire, or e-bikes—those might require the use of an adaptor to fit well.
Here's what you need to know about each type of bike rack.
Trunk Bike Rack
Number of bikes it can carry: 1-3
This rack category generally has arms that extend out from the car, carrying the weight of the bikes. The rack attaches to the vehicle with straps that fit around the trunk and the system is adjustable to fit a wide range of car styles, from sedans and hatchbacks to crossover and SUVs. These tend to be the most budget-friendly, with many under $100.
ProsCons
Roof Bike Rack
Number of bikes it can carry: 4-7
These are the most versatile systems that, with dedicated attachments, can carry everything from bikes to kayaks to luggage, and there are versions for most cars, SUVs, and pickup trucks. Adding a system to carry bikes on the roof of a car that doesn't have one can add about $200 to the total cost, but if you already have roof rails (which run hood to trunk) or a roof rack (which runs door to door) you can save yourself some money.
Stored this way, the bikes tend to be more secure both in transit and from theft. Bikes attach to the rack in a couple of different ways, either with an arm that clamps down on the frame or the front wheel. Some attach to the fork, which requires taking off the front wheel and storing that in the car.
ProsCons
Hitch Bike Rack
Number of bikes it can carry: 1-4
If you already have a hitch on your car or truck, these racks slip right in and carry bikes on a pair of fold-out arms or a tray. You'll need to know the size of your hitch, which is usually a Class 1 (1 ¼-inches wide) on cars, crossovers, and SUVs, and Class III (2-inch wide) on pickups and trucks. Installation is easy and adding the bikes is simple too. Basic options start at around $100 but the better versions tip out allowing access to the trunk even while the bikes are loaded on—adding about $300 more to the cost.
ProsConsEvery product on Fatherly is independently selected by our editors, writers, and experts. If you click a link on our site and buy something, we may earn an affiliate commission.