8 Best Bike Bags, Panniers, Saddlebags, and Totes for Commuter Dads
Get a workout while shuttling your kids around.
by Jon Gugala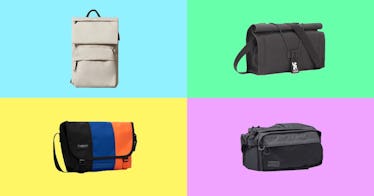 Being holed up indoors for the past year has turned most of us into paunchy, soft-bellied shells of our former selves. And with the world opening up more as we near herd immunity, coupled with warmer spring and summer weather, the bike beckons commuting parents. Schlepping kids from place to place is not only a solid workout, but it's better for the planet. But having kids means having stuff, and to tote that stuff you need a bike bag. Whether you opt for a bike saddle bag, a bike frame bag, or a bike handlebar bag, you need a bike travel bag that's big enough to fit toys, snacks, bottles, more snacks, and all the other supplies kids require.
messenger bags still accessed while riding. Something that is impossible with higher bulk, roll closure frame bags.
Every product on Fatherly is independently selected by our editors, writers, and experts. If you click a link on our site and buy something, we may earn an affiliate commission.