This Bifold Wallet Holds Cards, Cash, Paper, and Pen
Let's face it, your wallet is a one-trick pony.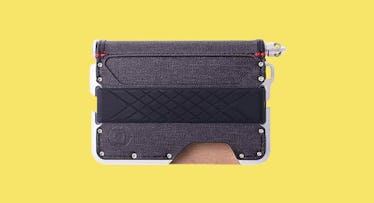 A wallet is meant to hold all the essentials one might need out in the world — an ID, cash, credit cards, a punch card for the frozen yogurt place. But, really, is that all that's essential? If you're one who has taken the habit of carrying a pen and a notepad around, you know how indispensable note-taking devices are. It was just a matter of time before some genius married the two.
The Dango D01 Dapper Pen Wallet is that inspiration. This brilliantly designed notebook-cum-wallet (and the other way around) is an minimal aluminum wallet with a built-in notepad and pen that, miraculously, don't turn this thing into a Costanza wallet.
The D01 is an aerospace-grade aluminum chassis held together with steel screws and wrapped in DTEX, a water-resistant material that also forms four pockets big enough to hold four credit cards. There's an interior elastic band that neatly fits bills folded in half. Its RFID-blocking, of course, and there's even a bottle opener built into the frame.
The back cover of the included notebook slides cleanly into a slot for the purpose. It's 48 pages of grid dotted paper with a heavy stock outer cover, handmade with red stitch binding.
The pen slides out from the joint where the wallet opens and closes. It's made of the same aluminum as the chassis of the wallet, contains a German-made black ink, and has a slotted end that allows you to attach a keyring or lanyard if you so desire.
All of this fits in a package that weighs just four ounces and is 4.25 by 2.75 inches. Thickness will vary, obviously, depending on how many cards and how much cash you fill it with.
So if you've ever found yourself without a pen and pad when inspiration strikes or you just really need to jot something down, this might be the wallet for you.
Every product on Fatherly is independently selected by our editors, writers, and experts. If you click a link on our site and buy something, we may earn an affiliate commission.