It's Time to Invest in a Watch Storage Box
Give your timepieces the respect they deserve.
by Jon Gugala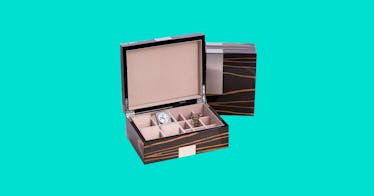 In a world of digital displays, electric cars, and smart-everythings, a wristwatch remains a classic statement of personal style. From James Bond
to Tom Brady and Joe Biden, when a man wants to stand out in a crowd, he does so by showcasing what's around his wrist. But just like all other menswear items of quality, from leather shoes to selvedge denim, protecting that investment is key to lengthening its days and preventing damage. Whether you've been collecting chronographs for decades or are just now wading into the timepiece world, a quality watch storage box should be your next purchase. Designed first and foremost to protect your investment, many watch storage cases also act as a display piece, creating a handsome means of showcasing collection when they're not in use. Watch boxes also ensure that when you want to slip one on your wrist, you're not digging through the junk drawer or under the nightstand while trying to recall when you last wore that treasured timepiece. While some watch boxes are simply that — a box that holds anywhere from a single case and bracelet to well into the double digits — others feature rotating actions designed to maintain self-winding movements as well as preserve their precise timekeeping for weeks and even months at a time. Whether you own a Rolex or a Timex, the best watch storage boxes will keep them safe, secure, and ready for service.
Every product on Fatherly is independently selected by our editors, writers, and experts. If you click a link on our site and buy something, we may earn an affiliate commission.
This article was originally published on