The Best VR Headsets for Kids
Bring a virtual experience home with the headsets that have a little something for everyone in the family.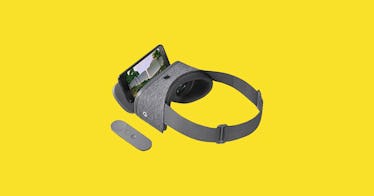 Virtual reality headsets may not have displaced the television as the workhorse of the home entertainment system or the traditional console as the object of most video game hype. But every year they're getting closer, and as more and more dads are getting into the medium, they're naturally curious about a VR headset for kids. While often times the best VR for kids is the best headset for you, some may prefer a more affordable (and more easily replaceable) option for tiny hands. Therefore, we've broken down the best VR headsets for kids. No longer expensive novelties, they're attainable hardware with robust game libraries, and they're sure to be on tons of birthday lists this year.
As a relatively new product, deciding which is the best VR headset for kids can be an overwhelming proposition. The best to think about it is where the computing power comes from: a smartphone, an onboard computer, a gaming console, or a gaming PC. Besides the quality of the experience, the main differentiator between these categories is price. There's a world of difference between a cheap VR headset powered by a smartphone and the best VR headset for PC, but that doesn't mean there aren't solid choices at every level.
Within those categories, it's the quality of the gameplay experience — determined by the ease of use of the controllers, the comfort of the headset comfort, and audio-visual quality — and the available games and apps that separate the best VR headsets for kids from the rest.
No matter your product preference, remember that while some of our recommended headsets are deemed safe for kids 12 and older, others are rated "no young children." VR headsets might not fit snugly on smaller heads, and more importantly, kids can do damage to their vision by using them. Before you buy anything, read the safety instructions carefully and make sure you're getting the right product for your family.
Best Smartphone VR Headset
Best Stand-Alone VR Headset
Best Console VR Headset
Best VR Headset for PC
Best VR Headset for Yourself that You'll Claim Is for Your Child
Every product on Fatherly is independently selected by our editors, writers, and experts. If you click a link on our site and buy something, we may earn an affiliate commission.