The Best Valentine's Day Jewelry Gifts Under $250
Ten handsome pieces you can actually afford.
by Liz Newman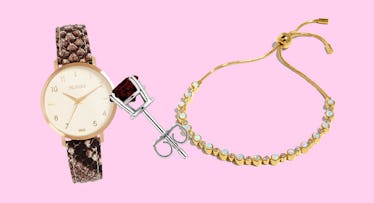 Valentine's Day is on the horizon. And while giving jewelry is always a safe move, it's not nearly as easy as that Zales commercial might lead you to believe. Also, it's not cheap. Which is why buying something your wife will absolutely love ⏤ be it earrings, a necklace, the Hope diamond ⏤ is even more important. To help out, we rounded up ten stylish jewelry gifts under $250 that don't bust it. From a Turkish-made pendant engraved with the kid's names to Peridot stud earrings to a clever heart necklace that doesn't look like a heart at all ⏤ it's all there. And it all starts at only $15. Now you just need to figure out what her jewelry box is missing.
RELATED: The Best Valentine's Day Gifts Under $50
Tiny Name Necklace
This popular Turkish Etsy designer hand-makes custom engraved necklaces in either Sterling, 22k gold, or rose gold. The chains measure 13-to-22-inches in length and you can add rings for only $5 each ⏤ so each one can be laser-etched with a different kid's name.
Minsai Cuff Bracelet
This rose gold, stainless steel bracelet fulfills two common jewelry desires at once: Its industrial screw-in bar clasp makes a bold statement while still being elegant and simple enough to wear with anything.
Garnet Stud Earrings
The four-prong basket setting on these classic stud earrings can be filled with 6mm gemstones in eight different colors, from Peridot to Garnet to Fire Citrine. And the push-back posts ensure they stay in the ear and not stuck between the couch cushions.
Tai Opal Tennis Bracelet
Designer Tai Rittichai's artistic tennis bracelet weaves together yellow-golden plated brass and elegant opal stones to create an intricate piece that "celebrates her artistic upbringing" while "combining the traditions of hand craftsmanship with modern design."
Mignonne Gavigan "Madeline" Earrings
Assuming your wife enjoys being stopped and asked, "Where did you get those earrings?", then you can't go wrong with this stylishly chic pair from Mignonne. The leather backing and hand-beaded sequins and crystals make them a striking addition to any ensemble.
Jennifer Fisher Overlap Cuff Ring
The beauty of Jennifer Fisher's sculpted circle cuff ring is that it actually looks like you bought her four rings instead of one. It features four graduated bands of polished yellow-gold-plated brass and that flow down the pinky finger in a "cascade pattern."
Erica Weiner Heartbeats Necklace
Heart-shaped jewelry may not be for everybody but Erica Weiner's 14k gold Heartbeats necklaces offer a distinct twist. Each one can be stamped with a song lyric (from Beyonce and Biggie to Talking Heads and Cypress Hill) that best expresses your feelings for her.
Beck & Boosh Beat Necklace
And speaking of a distinct take on beating hearts, this delicate 16-inch chain from Beck & Boosh Beat eschews the traditional heart shape for something a little more clever ⏤ an EKG line vector.
Pintrill Love Pins
The best part about Pintrill's playful "Love Pins" (other than they look cool) is that they come etched with a number of sayings ⏤ from "True Love Never Dies" to "Who Said Romance Is Dead? to "I Crave You" ⏤ so you can properly capture your sentiments. There's also one of a minivan that reads "Mom's Taxi," which also seems fitting.
Nixon Arrow Leather Watch
Giving a watch as a gift doesn't always mean the days of your relationship are numbered ⏤ it could just mean your wife is late a lot. And Nixon's classic Arrow timepiece in rose gold with a sleek snake-embossed band should solve that problem.
This article was originally published on