The Best Valentine's Day Jewelry Gifts Under $100
Pieces that show your love without sinking your checking account.
by Dave Baldwin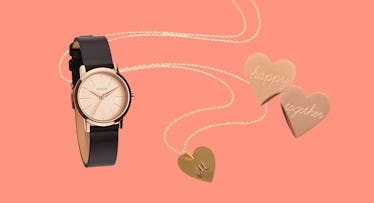 Giving jewelry for Valentine's Day is never a bad idea. It is, however, often an expensive one ⏤ gold, silver, and jewels tend not to come cheap. But just because your budget is limited doesn't mean you're relegated to fake diamonds or shopping at Claire's. There are plenty of bracelets, bangles, and earrings out there that are stylish, skillfully made, and not at all embarrassing to either give or wear ⏤ it's just a matter of finding them. To help you do that, we rounded up eleven jewelry gifts under $100 that both make heartfelt presents and won't break the bank.
RELATED: 11 Valentine's Day Gifts That Make You The World's Most Thoughtful Guy
Espere Rose Quartz Stud Earrings
Made out of 14k rose gold and set with rose quartz, these stylish studs are completely resistant to color fading and tarnishing. Plus, their eco-friendly finish makes them hypoallergenic ⏤ so no worries about irritated skin.
Vintage Locket
The best part of this hand-casted, heart-adorned pewter locket is there's no tiny picture to cut out and put inside. Simply email the image and nimble-fingered elves at Vintage Pearl will drop it in for you. Feel free to add the date or secret message for posterity.
Nixon Ladies Kenzi Watch
Nixon's ladies Kenzi maintains a hip, minimalist design with its rose gold steel case and brown leather strap. It's also water resistant and boasts a scratch-resistant lens.
Soko Kazi Cuff
If your hard-working woman likes to celebrate other "women who werk," this stylish adjustable brass cuff is your move. In fact, when you order you'll be asked what type of woman she is — a Trailblazer, Super Mom, Boss Lady, or Creator (but not The creator, obviously). The engraved cuff is then handmade in Kenya by a female artisan "companion" of similar stature — so it's made "for her by a woman like her."
Catbird Full Heart Necklace
Sold mix-and-match style (so you can add more pendants later) in both sterling silver and 14k yellow gold, this charm and necklace from Brooklyn-based Catbird comes either monogrammed with a single letter or, like the expression on your face when your wife asks if the kids' lunches are made, totally blank. Also, a portion of the sale goes to charity so you won't feel like you got duped into celebrating a made-up holiday.
Menu Louise Christ Jewelry Tree
Think of this artistic, mirror-finished aluminum tree not just as a way to help your partner keep her jewelry organized, but as a way to keep those expensive engagement/wedding rings from accidentally finding their way into the bathroom sink.
Seoul Little Maive Happy Together Pins
Depending on how romantic and/or secure you are, you can either roll with classic heart pins that read "Happy" and "Together" (one for her, one for your desk drawer) or something more suited to her personality. She a fan of the beach? They've got a palm tree. Cat person? There's a cat pin in either 18k-gold or 14k-rose gold. They even sell a pineapple if she just loves tropical drinks.
The Brave Collection Tassle Cuff
And speaking of tassels, they're not just for graduation anymore. These flexible cuffs are handmade in Cambodia out of either sterling silver or 14k gold-plated brass and are adorned not only with a tuft of cotton and metallic fiber, but also a dangling buffalo tooth charm.
Kate Spade New York Sailor's Knot Bangle Bracelet
This handsome knotted bracelet from Kate Spade comes in gold, silver, or rose and should look fabulous dangling from both her wrist and the Louise Christ Jewelry Tree.
LEIF Evil Eye Ring
Not at all what you get when you pretend you don't smell the baby's diaper and your wife gets stuck changing it, LEIF's Evil Eye is actually a delicate .25-inch "sparkling sapphire-hued crystal" lined with rosegold lashes. In addition to the eye-catching aesthetic, it also reportedly "wards off negative energy."
House of Harlow 1960 Dakota Cuff Bracelet
This imported metal Dakota Cuff from House of Harlow 1960 is gold-toned and features pyramids with small crystals on the ends. Best of all, it slips on — no slapping required.
This article was originally published on