The 21 Best Valentine's Day Gifts for Dads: Our 2021 Picks
Because everything changes once you have kids.
by Donna Freydkin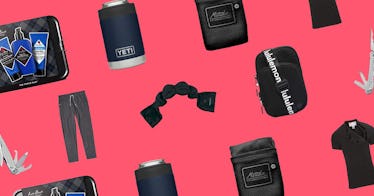 When a man becomes a father, his identity can become subsumed by the tiny human he's helping to raise. Hey, it happens to the best of us. And that's why picking out considered, thoughtful gifts for dad takes more effort than ordering a hackneyed mug online or grabbing a ridiculous drugstore card. When it comes to Valentine's Day gifts for dads, think function ahead of form. Or in a perfect world, a seamless combination of both.
You want gifts that make him feel seen. Feel appreciated. Feel understood. Things like multi-faceted briefcases that double as diaper bags in a pinch, backpacks that allow dads to bring their kids camping with them, and headphones that can help them make the most of very rare workouts. Here are new dad gifts, ranging from pithy to practical, that any guy would be happy to open this Valentine's Day.
Every product on Fatherly is independently selected by our editors, writers, and experts. If you click a link on our site and buy something, we may earn an affiliate commission.