The 6 Best Umbrella Strollers Of 2016
Everybody get your mothaf—n stroll on.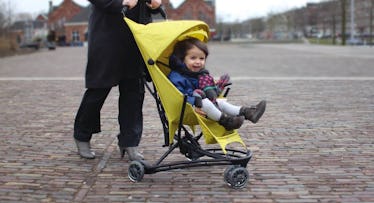 Picking an umbrella stroller is like looking for an apartment in New York City — you want 5 things, but you only get to have 3. So ask yourself this: which compromises are you willing to make? One compromise you can't make is going without one, unless you're willing to forgo leaving your house between the time when your full-size stroller becomes too much of a hassle and when your kid is old enough to literally stroll their own hindparts to the playground. Whether for traveling, running quick errands, or storing in the aforementioned shoebox apartment, an umbrella stroller will quickly become your lightweight, foldable go-to.
These 7 options top the reviews at sites like Consumer Reports, The NightLight, and BabyGearLab and offer innovative folding systems, multiple reclining positions, 5-point safety harnesses, maneuverability, and more. Just not all of those in one.
Best Overall: Maclaren Triumph
Pros: The Triumph, well, triumphed at The NightLight, where reviewers made it their top choice for its combination of lightweight design, durability, and abundance of features. It's got plenty of comfort features — ergonomic foam handles for you, reclining seat for Junior — and a waterproof hood and rain cover, so, in this case, "umbrella stroller" isn't just a clever name.
Cons: The dual-action buckle system requires a bit of finesse and coordination to undo the harness, so your kid will never figure it out. How's that a con? Because depending on how little sleep you've had, you might not, either.
Weight: 13 lbs
Capacity Limit: 6 months to 55 lbs Folded Dimensions: 9" x 41" x 12" One-handed fold: Yes
Best For Travel: Quinny Yezz
Pros: From the makers of the longboardstroller comes the super light Yezz. BabyGearLab awarded it their top pick for travel, saying "Lightweight AND compact are difficult to find even in an umbrella stroller, yet the Yezz delivers here along with being easy to push, turn, fold, stand, carry, and store." Plus, you can horrify your wife by asking her to "Unfold the YEZZ, KWEEN."
Cons: Consumer Reports is the killjoy, pointing out the barebones-ness of this stroller: "The seatback is not adjustable, a big minus for some parents and kids. Harness belts must be threaded through to adjust, which is time-consuming. Front swivel wheel cannot be locked. Lacks a basket; the only storage is a pocket on the back of the seat." Several Amazon reviewers told identical stories of a front wheel snapping off after gate checking for a flight, so, as they say, flyer beware.
Weight: 12 lbs
Capacity Limit: 6 months to 40 lbs Folded Dimensions: 10.45" x 27.5" x 13" One-handed fold: Yes
Best If Money Is No Object: UPPAbaby G-Luxe
Pros: The G-Luxe ranked high across the board; BabyGearLab named it their 'Editors' Choice' for best overall umbrella stroller and The NightLight and Stroller Envy both recognized it as a top choice in the higher-end price range. It reclines 120-degrees, supports your kid up to 55 pounds, and is packed with convenience features like a huge SPF 50 sun canopy, under-seat storage, cup holder, and adjustable footrest, making it potentially the best combination of comfort, convenience, and capacity on the market.
Cons: All those features add up, literally, to one of the heaviest and most expensive strollers on this list. If you're planning on checking it for an upcoming flight, you'll likely want to use the travel bag; unfortunately, it's sold separately, adding to your cost.
Weight: 13 lbs
Capacity Limit: 3 months to 55 lbs Folded Dimensions: 13" x 42" x 14" One-handed fold: Yes
Best Bargain: Summer Infant 3D Lite
Pros: If you want a bare-bones umbrella stroller that won't break the bank, look no further; Consumer Reports tagged the 3D Lite a 'Best Buy' and their second-best umbrella stroller overall, and Stroller Envy ranked it the best under $100. CR gave it excellent marks for safety; it features a 5-point harness. At just 12 pounds, it still includes a small storage pocket, reclines, and supports a child up to 50 pounds (for your extra large toddler or extra lazy 7-year-old).
Cons: This stroller will leave your kid super jealous of your easy chair, according to CR: "The recline mechanism on the 3D Lite requires both hands, is awkward to use, and … there isn't much of a difference between the upright and reclined positions."
Weight: 12 lbs
Capacity Limit: 50 lbs Folded Dimensions: 9" x 41" x 10" One-handed fold: No
Summer Infant 3D lite Convenience Stroller ($76)
Best For The Car: Chicco Liteway
Pros: BabyGearLab's #5 overall and 'Best Value' pick was Stroller Envy's top choice in the "mid-range" budget category. Amenities include 5-point harness, 5-position reclining seat, detachable storage/tote bag, foldaway bootie for safe sleeping and general adorableness, and the rare (for an umbrella stroller) cup holder. The only umbrella stroller on this list that's car seat compatible (and one of just a handful on the market, period).
Cons: The storage pocket converts to a shoulder tote bag, which is good, but it's tiny, which is bad. While there is a cup holder, there is no tray for you or Junior. At 17 pounds, it's one of the heaviest umbrella strollers you'll find (and, presumably, the choice of Kelly Starrett. Functional fitness, guys!).
Weight: 17 lbs
Capacity Limit: Birth to 40 lbs Folded Dimensions: 10" x 46" x 15" One-handed fold: Yes
Best Compromise: UPPAbaby G-Lite
Pros: The less expensive cousin of the G-Luxe merits inclusion here thanks to its top ranking on Consumer Reports' list. It's strictly no-frills — lightweight, excellent maneuverability, easy to fold and store, and self-stands when folded. Reasonably priced for everything you need and nothing you don't.
Cons: Just because you don't need it doesn't mean you won't want it; be ready to live without a reclining seat, storage trays, adjustable handles, and locking front swivel wheels.
Weight: 10 lbs
Capacity Limit: 6 months to 55 lbs Folded Dimensions: 11" x 44" x 11" One-handed fold: Yes
This article was originally published on