The Best Travel Strollers and Umbrella Strollers for Road Warriors
Some weigh less than a bowling ball.
by Dave Baldwin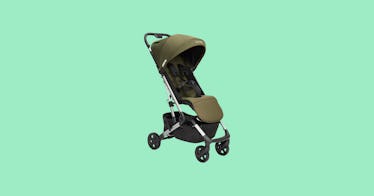 Being mobile with your baby in tow is about much more than just getting from point A to point B. For that, you can get by with a barebones umbrella stroller with few extra features beyond wheels, seat, and canopy. When it's time to travel with some semblance of comfort, you need a travel stroller, one that's compact and foldable, small enough to fit into a trunk but sturdy enough to handle both your offspring and piles of baby gear. The best travel strollers have a one-handed fold, accommodating parents who need to instantly collapse a stroller while holding a squirmy kid in their other hand. When your baby is comfortable and your lightweight stroller doesn't require an advanced degree to set up, things go a lot smoother.
The name of the game here is convenience and ease of use. Other features worth considering include an adjustable handlebar (hard to find in travel strollers, but so worth it when you do because of the comfort factor), multi-position recline, and a UPF canopy to protect baby from the sun. A roomy storage basket, plus pockets, are great to have. Bonus if the stroller is self-standing, which makes it that much simpler to use.
If you have a newborn, make sure the travel stroller is compatible with whatever car seat you're using. Pay particular attention to the stroller's capacity limit; you don't want to spend money on something you can only use for a year or two before your child becomes too heavy for it.
The Best Urban Travel Strollers
The Best Easy-Fold Travel Strollers
The Most Lightweight Travel Strollers
The Most Portable Travel Strollers
The Best Umbrella Strollers
Unlike their fancier counterparts, traditional umbrella strollers sound like exactly what they are: They have handles that curve up, they are insanely lightweight, and they fold up into almost nothing. When folded up, they look like umbrellas. They're a great choice as a secondary stroller for shorter outings, like a quick jaunt to the store or fast subway trip.
Every product on Fatherly is independently selected by our editors, writers, and experts. If you click a link on our site and buy something, we may earn an affiliate commission.