The Best Toys From Toy Fair 2020: Bricks, Scooters, and Real Construction Equipment
The industry event is a hot mess, but it's impossible not to warm to these beautifully designed playthings.
by Fatherly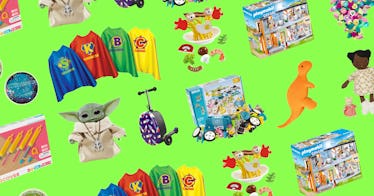 Toy Fair, held annually in the ostentatiously bland Jacob K. Javits Convention Center on Manhattan's West Side Highway, provides makers and marketers an opportunity to demo their best and newest — not always the same thing — to buyers and members of the shambolic toy press core. The show organizes a universe of forgettable plastic nonsense into a gridded, carpeted 41-acre city of juvenile dreams, a sort of rip-off of the metropolis looming beyond the center's glass walls. Like New York, Toy Fair 2020 featured hustlers hawking handbags (glittery and kitten-themed), consenting adults dressed as teddy bears, tired-looking men in suits, and a gut-churning quantity of slime. Also like New York, it featured some gems: toys made with consideration, destined to bring real pleasure to real kids.
The Fatherly Favorite Best Toys at Toy Fair 2020 run the gamut from construction sets to RC cars to dolls, but they have some traits in common. Each toy is designed to appeal to a specific age group — or has a variety of functionalities that appeal to specific age groups — and each toy leaves space for a child to do with it as they please. The best toys, after all, help kids create new worlds for themselves. Plastic bricks can do that. Stuffed dinosaurs can do that. But it takes smart design to do that well. These toys are beautifully designed, optimized for joy.
This beautifully constructed, fully functioning wood-crafting set allows kids to actually saw, drill, sand, and turn wood — all without any risk of hurting themselves. The set is intuitive to use and incredibly gratifying (for grown-ups and kids alike), while the different tools and the fact that they can be used on PLAYmake's wood supplies or any object at all — corn cobs, sticks, and cardboard are fair game — mean that kids can make PLAYmake projects for years. Maybe the most impressive thing about the PLAYMake, though, is the ingeniously designed safety features, which make the set surprisingly safe, given what it can do, and allows kids as young as 4 to learn woodworking.
Not all products exploit a white space. Some products stand out because they are beautifully executed or cleverly executed. The Velveteen Dinos from the (strangely) Minneapolis-based Manhattan Toy Company are both. These colorblocked Cretaceous critters have clean lines — some inspiration was clearly taken from the Sinclair Oil Company Brontosaurus — and weighted feet that not only help them stand up straight but give them a comforting immediacy. Think of them as gravity blankets for tots, whose relationship with them will change as they gain the ability to pick them up and manipulate them. Beautifully constructed and joyful to hold, Velveteen Dinos don't represent a new idea, just a good one well executed.
Not every superhero is borne of a tragic, mythical origin story. Some are real-life folks whose superpowers are being nice on the playground. And generous with their toys. And inclusive during recess. These vibrant, colorful two-sided superhero capes from Learning Resources reward just that type of social-emotional development in the most unexpected and unforced way possible for caped crusaders ages 3 and up. Each of the capes is emblazoned with one of the following words: kindness, bravery, caring, or sharing — all of which are behaviors we want to encourage in kids and which, all parents can agree, are superpowers worthy of their own Marvel movie.
Pretend toys, be they pizza or pineapples, are a staple of play, letting kids mimic what they see their parents doing in the kitchen. But this set elevates your average wooden or plastic meal by actually letting kids "cook" and showcase their culinary artistry. How? Preschool chefs get bendable noodles that they can pull and twist into weird shapes. Kids 3 and up then attach 13 pieces of other grub to the pasta in whatever arrangement they want, making odd, fun, and utterly unique meals in the process, all while practicing their fine motor skills. Bon appétit.
Going to the doctor can be pretty damn terrifying for kids, because it's synonymous with getting shots and being sick. Which is why this thoughtful set, for kids 4 and up, is a dope way to demystify the whole daunting experience by immersing them in it. It's a detailed and modular hospital with a check-in desk, an operating room with an illuminated wall monitor, a swiveling surgical light, and an exam table. After getting checked out by the doctor, the patient gets in the working elevator and moves to the recovery floor. There's even a toilet because of course there is.
Guidecraft isn't quite there yet with Little Bricks, but it will get there and when it does these things are going to be ubiquitous. The clever idea behind the Little Bricks blocks system is that the irregular bricks have holes in them and intended to be used for construction play along with objects found in nature (sprigs and branchlets mostly). The idea of a nature-integrated building kid? Genius. The execution? Meh. The bricks are a bit too uniform as it stands and not yet constructed, like some of Guidecraft's other products, from sustainable materials. Which is all to say that Little Bricks feel like the first iteration of something major. But that's exciting in and of itself. Kids should be getting twiggy with it.
Brio Builder playsets are nothing new. The blessedly simple construction kits, consisting of 120 wooden and plastic piece — screws, wheels, connectors, hooks — are an open play classic, a sort of Montessori-ized, beautifully rendered retort to the pop-culturization of LEGO. Now, Brio has introduced a motor into the mix. Why is this exciting? Because the motor is just as simple as the rest of the set, existing two wheels away from automobility. Featuring simple buttons that turn left, right, and stop, the motor will help keep slightly older children engaged with an already stellar product. Make the ferris wheel if you want, but the joy here is the simplicity of messing around.
If there's a tentpole movie out, chances are good that there will be multiple corresponding LEGO sets to cash in on the craze. So it's refreshing to find a new line of bricks utterly independent of what comes out of Hollywood. Resourceful designers 6 and older build their own pencil holders, bracelets, picture frames, or jewelry stands, and the finished products are actually, well, usable in the real world and serve an actual function. Best of all, this collection isn't based on an existing film or TV franchise, which inherently limits creativity. It's fed entirely by kids' imaginations, and thus, they can customize each item however they want as opposed to how they saw something pictured on a movie poster.
This clever travel scooter has the quality and engineering that Micro is known for, including the easy and intuitive "lean to steer" design, combined with a ridiculously practical mini-suitcase attached to the front. The scooter is great for travel — it's foldable, fits into the overhead bin of a plane, and allows kids to move relatively effortlessly and quickly around an airport. But it's just as great for everyday, allowing little kids (aged 2 to 5) to start learning how to scooter and lug their own stuff around. The scooter has an adjustable handlebar, too, so it grows with kids. (For older kids, the similarly great Micro Kickpack, a combo scooter-bag with a removable backpack, is also coming out this year.) Kids get where they're going faster, with less weight on their (or — let's face it — their parent's) back, and have more fun doing it, which makes these new scooters win-win-wins for both kids and parents.
Since the first corrugated boxes came to homes, children have imagining and building amazing things with them. The MakeDo Discover 7 Kit provides cardboard artists with a set of kid-safe tools to expand and aid their creations. The kit contains 126 items — two safe saws, a fold-roller, a scru-driver, two mini-tools, and 120 screws — all of which allow children ages 4 and up to cut, fasten, detail, and attach pieces together. The tools are bendable and have no sharp edges; the screws and tools are plastic and fat enough for small fingers. In short, this tool box enhances the age-old hobby of making forts, rocket ships, and any cardboard creations the imagination can conjure, without taking away from what made it so great to begin with.
There are ostentatious dolls out there that pee and poop and blink and cry. But ultimately, toddlers don't need any of these unnecessary extras when they're playing with nurturing toys. They just want something to love. Soft, cuddly, and washable, each of these ethnically diverse dolls comes with a removable outfit and a pet that's Velcroed on. The dolls are meant to be hugged, squeezed, and cradled, until the next wash cycle.
These luxe dough cups are fabulous sensory toys that the company calls "the most eco-friendly dough on the planet": The dough is exceptionally soft and pliable, is made with organic wheat flour, and dyed with plant-based colors. The cups are thoughtfully designed, too, with a slew of cool little details: each comes with a smart wooden scoop, contains surprise (compostable) glitter, and smells heavenly (thanks to chamomile, lemongrass, and lavender oils), which creates a pleasant aromatherapy effect for parents and kids. The new cup themes — bacon and eggs, planet earth, over the rainbow — are cute and completely non-gendered, while the dough, being all-natural, never expires and can be re-softened in the fridge with water.
Mattel Hot Wheels RC Cybertruck
This past December Tesla unveiled the Cybertruck, the company's take on the pickup truck of the future. Utterly unique and aggressively geometric (it honestly wouldn't surprise us if designers used a bunch of Tangrams when conceptualizing it), the truck is a straight-out-of-sci-fi creation featuring the same metal as SpaceX spaceship prototypes and such futuristic touches as a telescopic truck bed with retractable tonneau cover. Even more impressive, it goes from 0 to 60 mph in just 2.9 seconds and can travel more than 500 miles on a single charge. Basically, it looks like a toy car wrought to life, which is why the design team at Hot Wheels quickly went to work on a scaled-down version. The toymaker released two versions — a 1:64 scale model for $20 and a 1:10 hobby-grade scale model for $400 — both of which are wildly accurate recreations of the sometime-in-the-future vehicle. The $400 version, made for collectors, has functioning tail- and headlights, a telescopic tailgate, all-wheel-drive, and two driving modes: "Chill" and "Sport." In the latter mode, the truck reaches a top speed of 25mph. There's also a cheeky broken window decal that nods at the Cybertruck debut when Elon Musk accidentally destroyed the glass when trying to show its strength. The 1:64 — and much less expensive — RC model is three inches long, has two driving speeds, and fewer bells and whistles. Unlike the real Cybertruck, both models are up for pre-order now.
Thanks to Hasbro, the cutest creature in a Galaxy Far, Far Away (sorry Porgs) finally receives the toy treatment it deserves. Their Baby Yoda "The Child" animatronic captures the oohs and awws that made the 50-year-old broth-drinking, knob-obsessed infant such a breakout star. The Mandalorian's charge features 25 different (adorable) sounds and a variety of movements. The little creature can move its eyes, perk up its ears, and raise its arm and wiggle its fingers to simulate its budding Force powers. After exerting itself from said Force powers, it nods off while, yes, making adorable yawning noises. What more do you want? Intended for ages 4 and up, it will cost $60.
Plan Toys Gears & Puzzles Deluxe
Since this Thailand-based company debuted in 1981, they've been making sustainably focused wooden toys that engage and entertain children. Some highlights: The wood is responsibly sourced. Any wood that is not used in products goes to its biomass gasification power plant, which produces energy not only for the factory but also villages around it. The packaging is all eco-friendly. This set of puzzle pieces for children ages 2 and up is one of our favorites. They snap into one another satisfyingly and gears fit onto pegs in them. Once everything is connected, all the gears spin and twirl. It's a simple, satisfying toddler toy that expertly executed.
This article was originally published on