The Best Play Kitchen Sets for Toddler Chefs
Your (imaginary) meal is ready.
by Hudson Lindenberger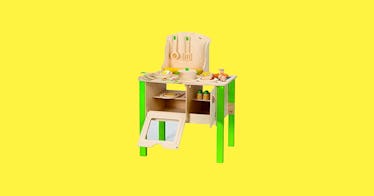 Toddlers have a lot in common with celebrity chefs: They can be demanding at mealtime, difficult on the staff, and temperamental in public — but they can also be truly inspired when it comes to unusual food combinations. Kids are natural observers who act out (or at least try to) the same things they see adults doing, like flipping pancakes, roasting a chicken, or baking a cake. Kids' kitchen sets are a great option for toys that encourage learning. The best play kitchen sets encourage children to use their imagination as they cook dinner, work together to figure out who serves and who does the dishes, and safely explore foods (rutabaga, anyone?) that may seem daunting or unappealing.
"As toddlers engage in pretend play, they are learning a new language, seeing the perspective of others, negotiating and taking turns, and solving problems that arise," says Rebecca Parlakian, the senior director of programs for Zero to Three.
Some tips: choose a play kitchen that's relatively easy to put together, but has enough realistic features to mimic what kids see in the real world. Opt for a kids' kitchen set that's small enough that it won't take over your living space. A wooden play kitchen might offer more aesthetic appeal, if not higher quality. And while we love shiny things as much as the next person, remember that the more a toddler kitchen set does in terms of lights and sounds, the less pretending your kid has to do. The toy kitchen sets that do the least are those that inspire the most use of imagination.
The Best Toddler Kitchen Sets
The Best Play Kitchen Sets for Kids
Every product on Fatherly is independently selected by our editors, writers, and experts. If you click a link on our site and buy something, we may earn an affiliate commission.