The Best Baby and Toddler Bibs To Make Mealtimes Less of a Disaster
So the food goes in their mouths, not on your floor.
by Lexi Dwyer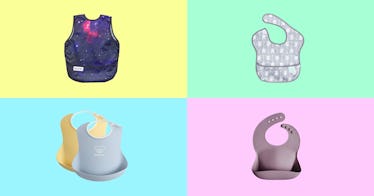 Think of baby bibs as Swiffers for infants. Their job is simple: To keep colorful pureed food off your walls, floor, and hair. The best baby bibs help keep the mess in check when he or she starts gobbling solid food, most of which will, inevitably, end up where you don't want it. The same concept holds true for the best toddler bibs as well, when they're shoveling food into their mouths with a very low accuracy rate.
According to the American Academy of Pediatrics, by 12 months, your offspring will be getting used to feeding him- or herself with a spoon, or, more likely, fingers. By 15 months, your kid will actually be able to maneuver food from a plate into his mouth. And, if you have a MENSA candidate on your hands, he or she will even fill up a spoon and get the contents of the spoon where they belong.
Whether your baby spits up often (perhaps due to reflux) or delights in smearing the contents of his highchair tray all over himself, do yourself a favor and stock up on an assortment of bibs. These are the best baby bibs from Amazon, whether you're looking for something lightweight, wipeable, machine-washable or all of the above.
Every product on Fatherly is independently selected by our editors, writers, and experts. If you click a link on our site and buy something, we may earn an affiliate commission.
This article was originally published on