The Coolest Tech Toys for Kids From CES 2018
Including a crazy virtual reality blaster and a new line of dolls that teaches young girls to code.
by Dave Baldwin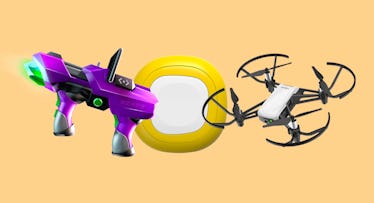 For as much hype as there is at the Consumer Electronics Show about futuristic robots and science-fiction fantasies, it's easy to forget that not every product on display wants to launch us into an episode of the Jetsons. Some of them, like smart toothbrushes and Alexa-enabled baby monitors, aim to help make the lives of parents easier. Others seek to make driving with your family safer. Still others, well, they're just designed to help kids learn, exercise, and have more fun. And that's this group: five of the coolest new tech toys for kids showcased on the floor at CES 2018.
Merge 6DoF Blaster
Following up on last year's handheld hologram, the Merge Cube, the VR/AR specialists at Merge Labs are back with the 6DoF ("Six Degrees of Freedom") Blaster. Simply slide an iPhone in, start the app, and you're ready to do battle in virtual reality. When you run, jump, and duck around the house playing this first-person shooter game, it runs, jumps, and ducks on screen with you ⏤ no goggles required.
Merge 6DoF Blaster ($50, Available Summer)
SmartGurlz Coding Robots
As seen on Shark Tank, SmartGurlz are a line of five dolls designed to teach girls to code. Specifically, they're 11-inch Barbie-like figures (each with a different empowering backstory) that ride atop remote-controlled, self-balancing Segways. Once paired to a smartphone or tablet via Bluetooth, kids use the smartphone app to program the scooters movements and drive it around the house.
Tello Drone
Tello is a tiny $99 quadcopter for kids with an integrated 360-degree camera that can stream 720p videos. The tech toy boasts automatic takeoff and landing thanks to tech from Intel and DJI ⏤ so no need to worry about crashing ⏤ and it gets about 13 minutes of flight time per charge.
Tello Drone ($99, Pre-order Now for March)
Taco Playbits and Taco Robobrix
Targeted to future engineers ages 3 to 7-years-old, Playbits let kids play and record music ⏤ not to mention learn their ABCs and solve number games ⏤ by swinging a smart wand and tapping on interactive coding chips. Robobrix, meanwhile, are Duplo/Mega/Kre-O-compatible smart bricks with built-in light, color, and sound sensors that help kids learn to code. Despite the name, neither has anything to do with Mexican food.
Taco Playbits and Taco Robotix ($69, Available September)
Play Rox
Designed to get kids off the couch and away from their screens, Rox is a real-life game system that involves actually running around the yard (or the house if it's raining) touching interconnected digital pods called ROXs and PEBBs. Each pod has different light or sound sensors and games range from to Zombie Tag, to Crazy Chicken Race, to a Ninja Parkour obstacle course. To be honest, it's a little confusing to understand until you see it in action, which you can do here.
This article was originally published on