7 Sweaters to Give to Your Wife Because She'll Be Colder Than You This Winter
It's cold and, based on pure physiology, your wife will be colder than you. So consider buying her a nice sweater. It's better than waging a war with the thermostat all winter.
by Jon Gugala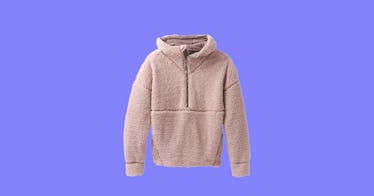 Unless you're living off the grid, month after month of heating is going to increase your utilities this winter — and the arguments between you and your family. When you add the fact that your wife's core temperature is higher than yours (don't take our word for it, it's science) and she will likely — and rightly — complain because her extremities are still cold and can you please raise the heat? It might be cheaper to just light your money on fire than to crank up the heat pump.
There is a solution: Buy her a sweater. A nice, cozy sweater. Before you think of this recommendation as heartless, let us make the argument. A robust mid-layer, whether it's made of cotton, wool, alpaca, or other, will warm her up while allowing you to live at a cooler, comfortable, and cheaper temperature. Also, who doesn't love a good sweater? When you plot out the cost of higher utilizes, one of the sweaters on our list is a bargain, and it gets you bonus points for being so thoughtful. It's all in how you look at it — and how warm she feels because of it. And, just maybe, crank the heat up just a bit.
Icebreaker Muster Crewe
The merino Muster Crewe by Icebreaker, on its face, doesn't have the stylish designs of others on its list, but we lead with it because of how understated and elegant it is. Simplicity aside, it's also buttery soft by the company that sells the most wool apparel in the world. Not too slim, but not nearly as blousy as others on this list, it's going to be the Goldilocks of her winter wardrobe.
United by Blue Cloudveil Cardigan
Super slouchy and comfy, she'll never want to slub around the house in anything else than the United by Blue Cloudveil Cardigan. UbB sources organic cotton for its loose-weave top, making this not the warmest on the list. But its ease of wear and relaxed look make it a sure favorite on the weekends both inside and while running errands.
prAna Permafrost Half Zip
prAna sourced recycled polyester for its Permafrost Half Zip, making this a piece she can enjoy in more ways than one. The super soft synthetic shearling fabric is comfy and easy, and the relaxed cut is free from imposition. The elasticized bottom and lined hood seal off drafts.
Lululemon Josei Wrap
You might think all Lululemon makes is leggings, but she knows all about their cute, functional, and technical lifestyle pieces like the Josei Wrap. The moleskin-like synthetic fabric is soft and muted, but it dries nearly as fast as a tech-T. She'll love little touches like the hidden phone sleeve inside the front pocket.
Madewell Balloon-Sleeve Cardigan Sweater
Mr. Rogers got it right: Nothing's comfier around the house than a sweater like the Madewell Balloon-Sleeve Cardigan. A loose knit and teased fiber means it's soft against the skin, while the relaxed fit and voluminous sleeves are ready whether she's showered or not. The acrylic, wool, and alpaca blend packs warmth, softness, and performance into one package.
Everlane ReNew Fleece
The recycled polyester of the Everlane ReNew Fleece is turned inside out for a fuzzy-forward design that's super-warm and very cute. It also comes in a ton of shades, letting her pick her new favorite sweater in her longstanding favorite color.
Smartwool Moon Ridge Boyfriend Sweater
The warmest sweater on our list starts with a chunky cable-knit pattern and then rolls up around her throat and over the wrists in a silky wool blend. Smartwool's Moon Ridge Boyfriend Sweater is anything but form-fitting, instead giving room to breathe and insulate. Its drop-hem rear offers even more protection from the cold and skin-saving coverage while bending over.
This article was originally published on