The Best Sun Protective Clothing and Sun Hats for Babies, According to a Pediatrician
by Ben Radding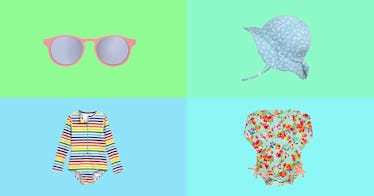 If you're taking your baby to the pool or the beach, your baby needs sun protection. And it needs to become so routine, you don't ever need a reminder to put on sunscreen or dress your child in sun protective clothing, also known as SFP clothing, with a UPF rating of 50. If you're sick of trying to rub sunscreen on squirming, whining children, SPF clothing and baby sun hats will save your sanity and your kid's skin.
"Protecting a baby from the sun should be done prior to any sun exposure so that it becomes part of the routine, just like changing a wet diaper before bed," says pediatrician Dr. Andy Bernstein.
"The most immediate consequence of not protecting a baby against the sun is painful sunburn," says Bernstein, "but also, premature aging of the skin and skin cancer risk is affected by sun exposure over the lifetime — so even sun exposure to little ones increases their risk of cancer or other skin changes."
In addition to sunscreen, two of the best ways to keep your baby safe in the sun are hats and full-body swimsuits. With help from Dr. Bernstein, here are the best pediatrician-approved sun hats, sun protective clothing, and sunscreens for babies. All the items on our list have a UPF 50 rating, as recommended by experts, and are easy to put on and take off because, well, babies.
The Best SPF Clothing for Babies
Your kid might not be quite thrilled with the idea, but putting him or her into a full-body swimsuit is a great way to protect your kid's skin. "Infant swimsuits that offer sun protection will have an UPF rating, so make sure your baby swimsuits have one," says Bernstein. "More protection with long sleeves and even pants can be very helpful." Indeed, when shopping for a full-body swimsuit, you'll want as much coverage as possible. Here are our picks.
The Best Baby Rash Guards
Listen, once they're wet, rash guards are a major pain to get off because they stick to wet skin. So we found ones that were … less so. All the products on this list are UPF50.
The Best Baby Sun Hats
Protecting your baby's head and eyes from the sun is the first step in making sure they're ready for a splash. According to Bernstein, there's really only one thing to look for in a protective hat for the baby: "It should have as wide a brim as the baby can tolerate," he says, "covering not just the face like a baseball cap, but hopefully protection all around the head to protect the ears and the neck too."
The Best Sunglasses for Babies and Kids
According to the Skin Cancer Foundation, kids 10 and younger can damage their eyes from exposure to UV rays. Thus, sunglasses are good choice. Make sure the ones you choose block 99-100 percent of both UVA and UVB rays, per the Skin Cancer Foundation, and that they use playground-proof lenses. This means the lenses are scratch-proof and won't pop out of their frames when your kids are playing. Wraparound styles are great, for maximum protection.
Every product on Fatherly is independently selected by our editors, writers, and experts. If you click a link on our site and buy something, we may earn an affiliate commission.