The Best Subscription Boxes for Kids
Gifts for kids that keep on giving all year long.
by Brendan Charles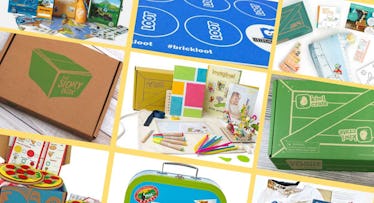 Kids love getting mail — that's just a fact, and the primary reason there are so many magazines, mail orders, and other toy subscription services custom-built for kids. So which crate of toys or activities will bring your kid the most joy, and maybe teach them something too? Here are some of our favorites that fit the bill for a wide variety of interests.
Kiwi Crate (Art, Science & More)
Age Range: 5 – 8
Price per month: $20
What's Inside: Kiwi company is one of the biggest names in subscription services and for good reason. While they have several boxes for different age ranges and interests, the classic Kiwi Crate is the best bet. It contains projects and activities centered around art and science, and lets your child build, learn and have fun all at the same time.
RELATED: 12 Great Magazine Subscriptions for Kids
Little Passports (Early Explorers)
Age Range: 3-5
Price Per Month: $19 + $3 shipping
What's Inside: Little passports is a subscription service that introduces your child to geography and the cultures of the world. The first month comes with a mini suitcase, world map and other basics and each subsequent month comes with a kit that gets your kid exploring the world through music, animals, food and more.
The Story Box (Picture Books)
Age Range: 3 – 6
Price Per Month: $20 +$2 shipping
What's Inside: For the family that burns through books so fast the library can't keep up- The Story Box has your solution. This service sends two books every month, which is awesome because it ends up being cheaper than buying the same two books off the shelf of your local store. They also have a board book pack, or a family pack that has a mix. Either way, the Story Box is a great way to build your library at home and find some new favorite books to read with your kids.
MORE: The Best Toy-Based Subscription Services
BrickLoot
Age Range: 5+
Price Per Month: $28 + $6 shipping
What's Inside: If your kids see the world in block form, then this crate service is for you. Each crate comes with minifigs, bricks, accessories, and clothes all centered around LEGO fandom. Even better, each month contains LEGO compatible custom builds and pieces you can't find anywhere else.
Green Kid Crafts
Age Range: 2-4, 5-10
Price Per Month: $20 + $4 shipping
What's Inside: Green Kids Crafts has craft boxes for kids of all ages. Each box is jam packed with eco-friendly materials that will get your child drawing, painting or building- usually around a chosen theme of the month. It also comes with a book that will give your kid a break when they're all drawn-out.
Pley National Geographic
Age Range: 5-11
Price Per Month: $20 +$5 shipping
What's Inside: This National Geographic kit will bring your little explorers around the world to save a different endangered specie every month. It includes activities, books, toys and clothes for your kids to enjoy. Pley also has more toy-centric boxes like Disney Princess and Hot Wheels when your kids are done saving the world.
Kidstir
Age Range: 4+
Price Per Month: $16 +$4 shipping
What's Inside: Getting your kids helping out in the kitchen can be a challenge, but Kidstir might just be the thing to get them chopping those onions. Every month you'll receive three new recipes, two kid-sized cooking tools, as well as activities and educational materials relevant to the month's theme. Just make sure they help with the dishes after.
Bramble Box
Age Range: 3-7
Price Per Month: $28
What's Inside: Each Bramble Box comes with a costume, props, and activities relating to a different theme each month. One month your kid might be a doctor, a mailman the next, and a wizard after that. It encourages your kids to use their imagination and explore the adult world through play.
Ivy Kids
Age Range: 3-8
Price Per Month: $39 + $5 shipping
What's Inside: The idea of Ivy Kids is simple: Your kids receive a book each month with a ton of crafts and activities that tie back to the book. It may seem pricier than some other options but each kit is full of stuff to do and are mostly centered around learning.
SportsBox
Age Range: Customizable
Price Per Month: $30
What's Inside: Sports are a big part of many kids' lives and the SportsBox helps them get their fix. They've got all the bases covered with monthly crates centered around baseball, basketball, football, hockey, and soccer. There's also different age groups for each, which means they've got stuff for beginners and semi-pros alike.
My Pretend Place
Age Range: 3-6
Price Per Month: $56
What's Inside: My Pretend Place delivers an elaborate costume, book, craft and activities that all share a common theme. How elaborate? Well let's just say the space theme comes with a complete spacesuit. It's a dream come true for any kid that likes to play dress-up. Since it's a little more on the expensive side, you can also choose to have the kits come every 3 months instead.
This article was originally published on