The Best Strollers for Every Size Family and Budget
There's a stroller here for every family.
by Fatherly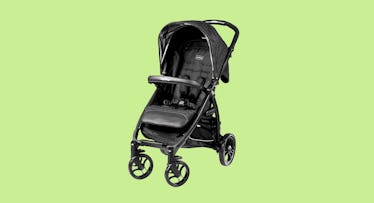 By now you're familiar with the Holy Trinity of baby strollers: jogging strollers, umbrella strollers, and, of course, your everyday full-size stroller (in single, or double). And as with most things you use every day, you're going to want to apply a certain amount of research and thought to expensive strollers. Or, like most everyone in the world, you just want someone to tell you what's good, swipe the card, and be done with all this bullshit.
First, a few baby stroller criteria to keep in mind before you go shopping (or just hand the keyboard over to your wife):
Tires: Are you just strolling around the cul-de-sac, or do you need bigger wheel suspension and heartier travel system because you're often traversing rough terrain?
Number of Kids: If you think that your family is going to grow, you'll need a stroller that is capable of expanding. Full-size strollers like the Uppababy Vista will go from an infant bassinet carrier to a double stroller.
Carrier Adaptable: Can you turn your car seat into a stroller seat? Does it have a reversible seat? Some strollers simply click in. Some need a bunch of extra stroller adapters and will have you crying like you're the one who needs a nap.
Storage: Some stroller models are intuitive and have cup holders, plus storage for diaper bags and other baby gear. Some you're going to need a couple of velcro hooks.
Folding: With a few exceptions (see below), baby strollers that don't have one-handed stroller folds aren't worth your time.
Safety: It should also have a good record of not collapsing out of the blue or flipping over like a Jeep making a hard U-turn.
Here are the absolute essential strollers. Whether you need the Cadillac of strollers or just a pre-owned Camry, these will cover every type of family configuration.
Its swivel front wheel locks into place while you're running, and it has suspension for a smooth jog. It has a one-handed compact fold, a reclining seat, an adjustable handlebar, and a roomy storage basket. This stroller only weighs 25. 3 pounds and unlike most comparable models, it fits bigger kids and it's safe for kids weighing up to 75 pounds.
The Evenflo stroller system is easy to fold and unfold, and has a very seamless restraint system for your baby. It weighs 20 pounds and fits kids weighing up to 50 pounds. It has a large three-panel canopy, cruiser tires, and an anti-rebound bar. It's a fantastic everyday stroller if you're not willing to shell out as much for a Thule.
The Peg Perego stroller, ideal for everyday use, fits kids weighing up to 50 pounds. It's got one-touch brakes, is super-easy to fold, and although a bit on the bigger side, glides smoothly through all your errands. The stroller is compatible with the Primo Viaggio 4-35 infant car seat, and it has a full recline.
This highly-rated car seat and stroller combo is suitable for kids weighing up to 50 pounds. Do note that the stroller is designed exclusively for use with Chicco Key Fit 30 infant car seat. You can remove the seat of the stroller and add the car seat for infants too young to ride in the stroller on their own. We love how easy it is to remove the stroller seat and backrest, which backrest detach in one piece, along with the canopy, leaving you with a frame carrier for your car seat. The padded push-handle has three adjustable height positions.
Parents appreciate having two cup holders as well as a large storage basket. This jogging stroller is easy to steer and absorbs the shock of uneven surfaces well so your little one can snooze as you cruise. It has a weight capacity of 50 pounds, a hand-operated brake, and it weighs 27.5 pounds.
The days of hauling around a stroller bigger than your car are way, way over. The Pockit folds up in two easy moves, weighs less than 10 pounds, fits into the overhead bin, and can accommodate a child from 6 months up to 55 pounds as well as 11 pounds of gear in its storage basket. Sold. And now it has all-terrain comfort as well.
You really get a lot for the price with this double jogging stroller. This jogging stroller has bicycles tires and a locking front swivel wheel that keeps the front wheel in place while jogging. Because of its weight limit, it's great for twins. It has a weight capacity of 50 pounds, pneumatic bicycle tires, and a foot-activated rear brake system.
The mesh seat on this umbrella stroller is breathable and lightweight, and you can take it off of the aluminum frame and throw it in the washing machine if need be. The canopy is expansive and has UPF 50+ protection. To fold it up, all you have to do is pull two hand-level triggers and pull the front wheels toward the handlebar. The 4.7-inch wheels and shock-absorbing, four-wheel suspension ensure a smooth ride, and the detachable cup holder for mom and dad is a nice touch. It has a capacity of 55 pounds, and weighs just over 11 pounds.
Parents love the stroller's one-fold handle and note that maneuverability is "great" at the same time the suspension keeps baby from getting jostled while on the move. The rear-facing car seat fits babies from four to 35 pounds, and the stroller is suitable for kids weighing up to 55 pounds.
Every product on Fatherly is independently selected by our editors, writers, and experts. If you click a link on our site and buy something, we may earn an affiliate commission.
This article was originally published on