8 Affordable Stroller Accessories That Make Every Parent's Life Easier
Your baby stroller is basically a mobile command center. These eight accessories — from sippy cup tethers to security systems — take it to the next level.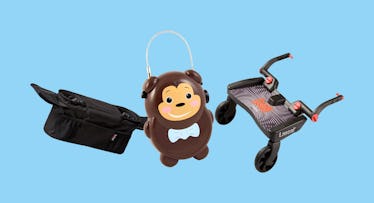 Your stroller is more than just a chariot for your child ⏤ it's your home away from home, your mobile command center, your Air Force One. It carries not just your kid, but also your essentials ⏤ diaper bag, toys, snacks, even groceries, and shopping bags. That's why it needs to be as convenient, entertaining, and secure as possible. And while the best strollers come loaded with convenient features, bells, and whistles, they're also a lot like bikes in that they can be customized to fit your precise needs.
Have two kids but one hates riding in the stroller? There's an attachable stroller board for that. Like to leave your buggy outside stores while you shop? A lock is a must. Or maybe you just have a kid who can't stop dropping that damn sippy cup on the ground every five feet? Fret not, you need an extendable cup catcher. There is no shortage of innovative stroller accessories out there to help tailor your perambulator and make life as a parent easier. These are eight of our favorites.
Britax Stroller Organizer
Some strollers come with handlebar-based organizers; many do not. The Britax Stroller Organizer attaches to most handles and features two insulated cup holders, a storage bin to stash snacks, and three outside pockets for your phone, keys, and other small items. It's soft and collapsible, so it won't hinder your ability to fold the stroller, and the magnetized flap ensures it securely closes and is easy to reopen it.
Brilli Baby Cup Catcher
There is no question about it: Your child will drop their sippy cup, snack pack, or favorite toy onto the sidewalk a thousand times while you're walking. And it will often leave you with a moral dilemma: Hand them back that germ-ridden item or harsh their mellow by withholding it until it can be sanitized. Well, consider the dilemma solved. The Baby Cup Catcher acts as a tether, securing drinks and toys to the stroller frame so they never touch the ground.
Deki Dry & Go
Pushing a stroller straight while holding an umbrella is a difficult task for even the most ambidextrous of mortals. It's even harder if you have to tend to a crying child. The Dry & Go solves the problem by holding the umbrella for you. (How polite.) It attaches to any stroller handlebar and can hold both an upright/extended umbrella or one that's closed and dripping dry. It's also ideal for golf carts and bags.
Lascal BuggyBoard
Perfect for when you have a second kid but don't have a double stroller, this ride-on platform lets kids ages two to six ride standing up behind the stroller ⏤ and in between your arms ⏤ while your littlest one sits in the stroller's seat. Kids can easily hop on and off, and the BuggyBoard is compatible with most brands, including both single and double strollers.
Lil Jammerz
This three-piece plush toy attachment is designed to entertain your kid and strengthen their interest in music. But mostly just to entertain. Embedded inside one of the cute trio of characters is a Bluetooth speaker through which you can stream music (the other two serve as a squeaker and a rattle). Play your own stations, or use the Jammerz app to pump out a pre-programmed playlist.
Buggyguard Retractable Lock
Perfect for when you take your stroller to a restaurant, shop, or playground, this retractable lock features a four-foot long, vinyl-coated steel cable that conveniently locks the stroller to a nearby bench, signpost, or bike rack. It has a three-digit resettable combination, push-button cable retraction, and it works with any stroller. Plus, the cable housing comes in one of three kid-friendly designs like an adorable monkey.
Buggy Lights
No gimmicks here: just a great light that ensures cars and cyclists can see your stroller when you're walking at dusk or later. Easy to attach and remove, the Buggy Lights flash with one push of the bulb, provide a full beam with two, and turn off with three.
Think King Jumbo Swirly Hook
Yes, this is a big hook. But, unless you like carrying grocery bags while pushing a stroller one-handed, you probably need a big hook. This sturdy number attaches to any stroller handle and can take on multiple grocery bags, shopping bags, and purses ⏤ including bags with wide handles – for combined loads up to 15 pounds.
This article was originally published on