The Best Standing Desk Convertors: Our Picks for 2021
Give your home office a lift — and your workday a boost — with an adjustable desktop convertor that lets you sit and stand throughout the day.
by Emily Kelleher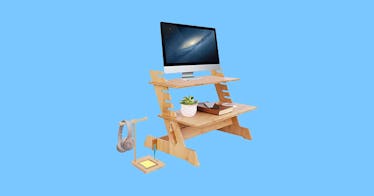 Standing desks have been a feature of progressive offices for years — even before 2020, American workers typically spent 70 to 80 percent of their workday being sedentary — but since the onset of the pandemic, standing desk convertors have come into their own. During a year in which our biggest commute is walking from the bedroom to the kitchen, and back again, we could all use a little less time sitting and a little more time on our feet.
Standing desks offer real benefits — from improved blood sugar levels to a reduction in neck and back pain — but no matter how good your intentions, it's not necessarily a great idea to stand for eight hours straight either. Many tasks that require deep concentration just need to be done sitting. A standing desk converter offers the best of both worlds. They let you convert your desk from sitting to standing height with the click of a button, saving you space, frustration, and a ton of aches and pains.
The Benefits of Sitting Less and Standing More
Research from the WHO and others has linked sitting for prolonged periods to an increased risk of high blood pressure, cardiovascular disease, and mortality. And while standing for a few hours each day isn't a one-way ticket to weight loss (on average you burn only eight additional calories per hour when standing) it's a healthier alternative to being hunkered down on the couch all day.
Personally, using a standing desk even just for a few minutes each hour of my workday has helped cure the persistent lower back pain that plagued me during months of hunching over my computer on a bench. And I'm not alone — a small CDC study found that using a standing desk converter for a month cut participants' neck and back pain by half. (And participants only stood for a little over an hour a day.)
The Best Standing Desk Convertors for 2021
Every product on Fatherly is independently selected by our editors, writers, and experts. If you click a link on our site and buy something, we may earn an affiliate commission.
This article was originally published on