Best Mens Socks: 17 Pairs to Keep Your Feet Sweat-Free and Stylish
There's a pair here with your, um, foot on it.
by Jon Gugala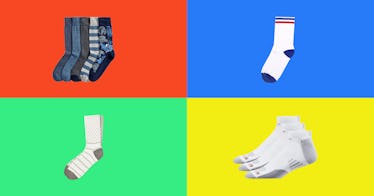 Men's socks have undergone some serious improvements in the past decades and the best men's socks have never been better. Thanks to better materials and moisture-wicking technologies as well as better insight into what feet need to be comfortable in a wide range of circumstances (hiking, running, looking damn fine with a suit), there's a perfect pair of socks out there for everyone.
The sheer amount of men's socks makes the decision a bit difficult. Choosing the best men's socks, of course, is a matter of lifestyle. Running socks, for instance, should be well-cushioned and have ample arch support (to help absorb impact, stay on your foot, and avoid blisters), be made of moisture-wicking fabrics (to ensure sweat evaporates), and, well, be comfortable. If you're looking for a pair of hiking socks, then you want something moisture-wicking, durable, and comfortable that also offers insulation for the season (thin socks on warm days/short hikes; thicker socks for colder weather/longer treks).
It all depends. But, no matter the situation, chief among your concerns should be stopping sweat and moisture in its tracks. Moisture, after all, is the death of comfort — and can be the start of extremely smelly feet. At the very least, look for synthetic or wool fibers and, if cotton must be used, always blend it with something else.
If you're looking for running socks, hiking socks, or comfortable fun socks, we've found excellent options in all categories and prices. Here, then, are some of the best men's socks around.
Best Men's Crew Socks
Best Men's Low-Cut Socks
Every product on Fatherly is independently selected by our editors, writers, and experts. If you click a link on our site and buy something, we may earn an affiliate commission.