The Best Sneaker For Kids is the Nike Flex
by Donna Freydkin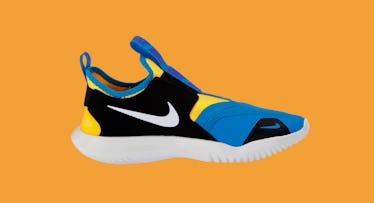 My kid was supposed to learn to tie his shoelaces in the first grade, a milestone that never happened. But laces aside, there's an even more pressing issue in our home involving footwear. I'm talking about finding the best kids' shoe. Well, friends, I finally found it: the Nike Flex kids sneaker. My child is obsessed with the swoosh, so these Nike kids' shoes check all the boxes.
It's one of those great ironies of life that I am fixated on fancy footwear, but this same issue has become my son's cross to bear. Shoes are either too tight or too loose. They're too narrow or way too wide. There are annoying tags. And more annoying tags. Dear god, those fucking tags.
Then, we deal with the Velcro that won't stay put. The pebbles that no human eye can actually detect, but which appear embedded only in my son's sneakers. The invisible blisters that pop up again and again, that only he can spot. And of course, the eternal and knee-capping reality that a shoe that fits perfectly in a store will, of course, when worn, be horrifically unwearable the second it hits pavement. Then, of course, it's unable to be returned.
After endless shoe sorties, I decided to finally lay down the weapons and let my kid pick out a pair. The criteria were simple: No laces, no Velcro, no weird patterns or tags, no narrow openings that would inhabit the easy putting on and removal of said shoes.
We stumbled upon the Nike Flex kids sneaker. It's a pull-on style, meaning none of the above issues ever became, well, an issue. They come in insanely cool prints. They're super-easy to pull on and off. Kids can wear them with or without socks, which means (drumroll please) no more scrunched-up sock moments, ever. They're made of a breathable mesh upper with a synthetic overlay, so there's no rubbing that leads to the aforementioned blisters that are invisible to the naked eye.
This shoe fits. And hell yes, he wears it.
Every product on Fatherly is independently selected by our editors, writers, and experts. If you click a link on our site and buy something, we may earn an affiliate commission.
This article was originally published on