Fast, Fun Backyard Slip-and-Slides for Summer 2021
Turn your backyard into an infinite loop of cool fun on hot summer days.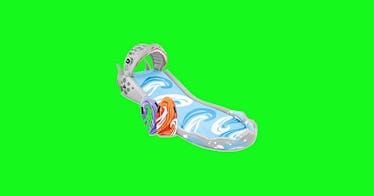 Nothing says summer than a long, wet plastic ramp on which kids can slide belly first and likely take a rock to the tailbone. Backyard slip-and-slides are iconic of the dog days of the warmer months, and they're a ton of fun for sweaty kids and adults alike. What makes the best slip-and-slide? With almost a hundred years of history, the form has largely been perfected, and all you have to do is select an option that accommodates your space. Big backyard or small? Multiple children at the same time or one at a time, time-trial style? Regardless of your choice, the best backyard slip-and-slides are all about speed, velocity, and escaping gravity for a few exhilarating seconds, and over the ensuing decades, they've only become more refined.
Sure, you can DIY your own homemade slip-and-slide (and you easily can), but thanks to Amazon, it's a hell of a lot easier to pick up one of these. Once you've Prime shipped it, take the time to learn how to set it up safely. First, find the perfect spot — ideally, a good hill (the steeper, the better), but a flat surface will work too. Next, make absolutely certain that there are no rocks, roots, or tree stumps in the sliding path. (We cannot emphasize this enough, as generations of kids have developed bruises through these naturally occurring obstacles.) Soften the ground beneath your mat with a little bit of water, which adds some natural cushion beneath your tarp. Finally, be sure to supervise kids as they slide. Once all those steps are checked off, you can use any one of these setups to slide into summer 2021 with old-school backyard fun, gliding, swimming, and grilling to your heart's content.
The Best Backyard Slip 'N Slides for Summer 2021
Every product on Fatherly is independently selected by our editors, writers, and experts. If you click a link on our site and buy something, we may earn an affiliate commission.
This article was originally published on