The Best Sippy Cups To Simplify the Transition From the Bottle
And here's how to use them correctly. Hint: Skip the juice.
by Donna Freydkin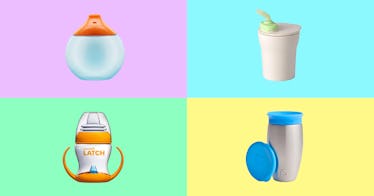 The best transition sippy cups serve one purpose: to help babies seamlessly make the move from the bottle to an actual, regular, adult cup. They're not meant to serve as portable milk-filled security blankets that your children take to bed. Nor are they designed to be used to for years at a time. The best sippy cups help kids stay hydrated, keep your floors clean, and ease the switch from nipples to cups. The American Academy of Pediatrics recommends switching children from bottles to sippy cups by around 18 months, but definitely before age 2.
When shopping for a sippy cup, find one that is sturdy, easy to clean, spill-proof, and easy for babies to hold. The fewer parts it has, the better, both for ease of use and safety reasons. Cups with side handles are usually winners, so toddlers can hold them, but some kids prefer ones without. Plastic ones are the most lightweight, but stainless steel cups are another great option because they keep drinks cold.
Every product on Fatherly is independently selected by our editors, writers, and experts. If you click a link on our site and buy something, we may earn an affiliate commission.
This article was originally published on