The Best Shoes For Back To School
Seriously, your feet should look this good.
by Dave Baldwin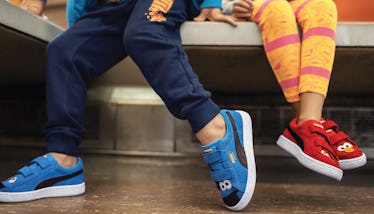 For more awesome stuff your kid totally needs for Back To School, check out our full back-to-school buyer's guide.
From desert boots to boat shoes to the freshest pair of Air Jordans (man, the '80s rocked), back to school has always meant scoring a sweet pair of new kids shoes. And while styles come and go (and come again), there have seemingly never been more shoes to choose from — a design for every kid, you might say. And, no, not every type of kid. Literally, every bleeping kid. Here are the best kids shoes for children in every age group.
Kids Shoes for Younger Children
Vans Kids MLB Authentic Your 4-year-old doesn't have to believe A-Rod is a cheater to appreciate these Red Sox kids shoes from the Vans X MLB collection, but it doesn't hurt (and it's never to young to start teaching them). The iconic low tops are also available for young fans of 4 other historic teams including the Cubs, Dodgers, Giants, and Yankees, as well as the not-at-all-historic Houston Astros. Only six teams total and somehow the Astros make the cut? Really?Vans Kids MLB Authentic ($42)
Native Sid Rainboot Assuming your little one tries to eat their new pair of waterproof slip-on boots rather than wear them in the rain, rest assured that the Sid from Native is PETA-approved and Vegan/Beast free. Then again, one bite of the synthetic no-slip sole and you probably would have figured that out.Native Sid Rainboot ($50)
Dr. Martens Toddler Brooklee T Lamper If ever there was a kids shoe made exclusively for parents to project their style on their kids, these classic 8-eye boots from Doc Martens are it. Pretty much a mini version of the pair you wore in college except kid-friendlier (and in lime green, among other colors), they feature more comfortable soles, softer leather, and a side zipper so Junior doesn't have to lace up those bad boys before every playground brawl. Training tattoos and chain wallet not included.Dr. Martens Toddler Brooklee T Lamper ($70)
Adidas Stan Smiths In case you missed (and yes, of course, you did), the adult version of these iconic adidas kicks from the 70s absolutely blew UP last year. As in, everybody was wearing them. Thankfully, toddler trends lag 12-months behind (maybe?), so your 3-year-old can still make an edgy Pre-K debut this month in a pair of the white leather classics.Adidas Stan Smiths ($45)
Puma Suede Sesame Street Elmo Mid Kids Combining your 'lil sneakerhead's two favorite things – Sesame Street and trendy suede mid-height shoes from Puma – the kids shoes version of these popular adult sneaks comes in high-risk red and includes both a removable sock liner and fun, tickle-resistant graphic of Elmo on the back.Puma Suede Sesame Street Elmo Mid Kids ($60)
Saucony Jazz Hook & Loop Believe it or not, there was a day when Saucony running shoes were not a cool kids' kick. Thankfully, for your cool infant, those days are gone. Available in four colors and sized for even the littlest of tikes (starting at newborn), these retro suede Jazz Originals look just as they did in the days when they weren't at all popular, except the kids' version swaps hard-to-tie laces for a hook-and-loop closure.Saucony Jazz Hook & Loop ($36)
Kids Shoes for Older Children
AKID Knight Made of full grain embossed leather and designed to look like a blue galaxy (or maybe a Jackson Pollock painting?), these chukkas from AKID are billed as "perfect for casual and dressy occasions." Assuming, that is, that your kids break out their formal wear to look for shooting stars.AKID Knight ($40)
Converse Chuck Taylor All Star II High Top You wore them. Your dad wore them. Your dad's dad wore them. Your dad's dad's dad … okay, that's too far back, but you get the point. These classic basketball shoes (circa 1917) have been around a long time. And your son or daughter should also wear them. Just not to play basketball, 'cause, like, they'll break an ankle or something.Converse Chuck Taylor All Star II High Top ($50)
Nike Free RN FlyKnit If your 7-year-old has already informed you of their plans to spend the upcoming Summer Olympics deconstructing Galen Rupp and Molly Huddle's running form, they'd also probably like to wear a pair of these Nike Free RN Fly Knits kids shoes. Just taking a guess.Nike Free RN FlyKnit ($95)
TOMS Canvas Youth Classic Your kid doesn't need to practice Tai Chi or work in a Spanish wine shop to appreciate a pair of these classic canvas slip-ons. They just have to want their feet to be comfortable as they stand on the suede insole and drink their morning juice cleanse. (Bonus: Buy one pair and TOMS will give another new pair to a child in need.)TOMS Canvas Youth Classic ($38)
Keen Big Kid's Versatrail Waterproof Boot For the outdoorsy youth who requests MREs and trail mix at every diner, these mesh-lined, high-performance boots from Keen (size 1-6) feature a secure lace system, cushioned (and removable) footbed, and a waterproof exterior that stands up to the elements. They also rock a rubber toe bumper so that your kid's toes don't get … you know … bumped by rocks.Keen Big Kid's Versatrail Waterproof Boot ($75)
Vans Canvas Sk8-Hi No, despite an edgy name that Avril Lavigne would most certainly appreciate, putting your Sk8ter Boi in a pair of these lace-up Vans shouldn't result in his actually "skating high." Hopefully not. Then again, your kid may be very impressionable, who knows. Either way, he should definitely wear a helmet. As for the shoes, they're inspired by the classic Old Skool and boast a padded ankle and re-enforced toecaps.Vans Canvas Sk8-Hi ($60)
This article was originally published on