The Best Shaving Creams and Gels For Men That Smell Fantastic
Just because shaving cream is an old-school medicine cabinet staple doesn't mean it has to smell, well, medicinal.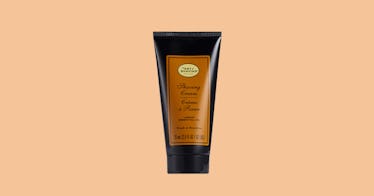 It's simple: If you shave, you need to use shaving cream. Whether you go clean shaven or are shaping a beard, shaving without a cream or gel is a recipe for dry skin, razor bumps, and whatever the opposite of a close shave is (a far shave?). Shaving cream moisturizes your beard hairs, which makes them easier to cut, and provides a protective layer for your face, which makes it harder to cut. But just because shaving cream is an old-school medicine cabinet staple doesn't mean it has to smell, well, medicinal. There are plenty that can give you a close shave and leave your face smelling delightful.
We looked high and low for shaving creams from both well-established and boutique brands. Because while you can get a decent shave with any aerosol can from the drugstore, you owe it to yourself to experience a shave that leaves your face smelling like citrus, cedar, or gin (seriously). We promise that you won't want to go back to plain old Barbasol. Here are our picks for the creams that combine a magnificent shave with a magnificent scent.
Art of Shaving Lemon Shaving Cream
This alcohol- and synthetic dye-free cream gets its scent from citral, a compound found in the oils of several plants. As its name suggests, it has a strong lemony scent that makes the whole shaving extra refreshing. It lathers nice and thick for an optimal shave experience. For those who can't get enough of the aroma, the company also makes lemon pre-shave oil, aftershave balm, and soap.
E-Shave Orange Sandalwood Shaving Cream
The extra-light, hand-whipped formula is a great choice for guys who hate the feeling of thick cream on their face. Its formula is paraben- and sulfate-free (read: safer for your skin) and designed to open up your pore and soften your beard. The intense, exotic blend of citrus and spice is strong enough that you can either eschew aftershave or go with an unscented version. You can apply a small dab of this with your fingers, but we recommend using a brush to coat your face in a just thick enough, even layer.
Olivina Men Bourbon Cedar Conditioning Shave Cream
The caffeine in your coffee perks you up every morning, and the caffeine in this shave cream, which comes from Brazilian yerba mate extract, does the same for your beard and facial skin. Organic hemp seed oil, aloe leaf juice, shea butter, and bisabolol give you a smooth shave, but its the wide array of plant-based ingredients that make this cream an olfactory winner. Elderberry, birch, buckthorn, juniper berry, and basil extracts come together in a scent that is rich, complex, and undeniably masculine.
Taylor of Old Bond Street Almond Shaving Cream
This British brand has been around since 1854, so it's safe to say they know a thing or two about quality shaving products. This particular shaving cream has a strong almond scent (duh) combined with vanilla, a hint of maple syrup, and some cinnamon leaf oil. If that all sounds like a lot don't worry. The scent is on the lighter side, more of a hit of nuttiness than an avalanche. It also does everything else you want a premium shaving cream to do, from lathering up nicely to ably softening up hair and skin.
Brickell Men Smooth Brushless Shave Cream
You can pick up an unscented version of this shave cream, but we'd highly recommend opting for the eucalyptus, lemongrass, and peppermint blend instead. The three energizing scents are a pleasant way for morning shavers to wake up, and the fact that its a formula designed to be brushless means one fewer thing to clutter up your bathroom. It might take you a while to get used to the non-lathering aspect of this cream, but getting a close shave with 72 percent organic and 99 percent natural ingredients means its an adjustment worth making.
Baxter of California Beard Lineup Shave Gel
As those of us who are prone to sunburn can tell you, aloe vera is a godsend. There no better way to recover from a day of less than consistent sunscreen application, but you shouldn't be saving aloe vera just for disastrous beach days. It's also great in for shaving, a naturally calming substance that, particularly when combined with vitamins C and E, as in this gel, can protect your skin from the trauma of shaving. Baxter's gel has a transparent formulation that provides great glide while letting you see what you're cutting. It's even designed for waterless shaves to give you even more precise control over your facial hair style. And for its final trick, the aloe vera, along with eucalyptus oil, leaves your face smelling nice and fresh.
Blind Barber Watermint Gin Shave Cream
The backroom at Blind Barber's East Village location in New York City is a secretive little bar that on most nights opens up a couple of hours before the barbershop out front closes. So it makes sense that the line of shaving products for the brand, which also has outposts in Los Angeles and Chicago, would embrace scents inspired by mixology. Watermint Gin, built around wild watermint, juniper berries (the same flavor you'll find in any decent bottle of gin), and botanical extracts, smells light and refreshing, like a well-balanced summer cocktail. It's engineered for all skin types and brushless application, and it's the perfect way to prep your face for a night out, particularly if a cocktail (or two) is on the agenda.
Kiehl's Lite Flite Shave Cream
Pretty much everything Kiehl's makes is geared toward producing results without irritating sensitive skin. This cream is no exception. Its non-greasy, non-pore-clogging formula provides a smooth ride for your razor without leaving awkward red bumps in its wake. The scent? Camphor, an ingredient derived from an eastern evergreen tree, smells and feels cool. Steam-distilled lavender oil is nice and soothing. And the menthol does a great job of perking up your skin. Its spelling may be nontraditional, but Lite Flite will give you a classic shave and smell great doing it.
This article was originally published on