Today's Best Sales: Nerf Guns, LL Bean Boots, and GoRuck Bags
With today's deals, you won't have to settle for boring Christmas gifts for your kids or flimsy gear for yourself.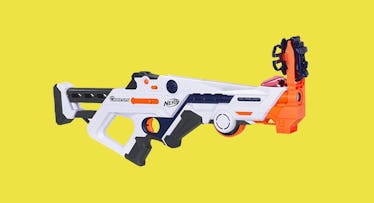 Every day, the Internet is teeming with deals, sales, discounts, and savings. But, as the Internet is a big, distracting place, said deals can be difficult to find. Plus, you don't have time to sniff 'em all out. You have work and kids and a total of 25 minutes of free time that shouldn't be spent looking for discounts. So, to help you put, we'll be combing through the daily offerings and rounding up the deals we like, and think you might find useful. Today, we found deep discounts on a Nerf Laser Tag blaster, the amazing board game Shadows in the Forest, a Paw Patrol Magformers set, a rugged backpack from GoRuck, and a handsome pair of L.L. Bean boots.
Nerf Laser Ops Burst Fire Combat Blaster
Is a Nerf blaster without projectiles a Nerf blaster at all? You could spend your time pondering this deep philosophical question. Or, you could spend your time playing laser tag with this new kind of toy from Nerf, one of our favorite new toys of the year. Even though the blasting is virtual, there's a bolt-action mechanism that makes for a more satisfying experience. You can strap your phone onto the barrel for a single-player AR-based game. For multiplayer action, you can play in teams or as a free-for-all, phone-free or with your smartphone strapped to your wrist, displaying your ammo and health status. It's like a video game come to life, and it's $10 off today.
Shadows in the Forest
This innovative, glow-in-the-dark board game, another of our 100 best toys of the year, should be played in the darkest place you can find. A bunch of trees sit on the board, casting shadows when you flip on the LED lantern. One player assumes the role of the Seeker and moves the lantern around the board while the others collaborate to hide their figures, known as Shadowlings, in the dark. Today's your chance to bring something new to the next family game night and save $5 while doing it.
Magformers Paw Patrol Building Kit
We've sung the praises of Magformers before, so Amazon's sale on a variety of different collections of the magnetic geometric building toy is definitely worth checking out. It includes speciality kits, starter sets, and this Paw Patrol-branded set of 20 pieces. Like all Magformers pieces, they connect with neodymium rare-earth magnets, but these come in the colors of the Paw Patrol gang and include inserts printed with Chase, Marshall, Rubble, Skye, Zuma, and Rocky. It's a decidedly low-tech toy that has STEM applications, and it's 30 percent off today as part of this sale.
GORUCK Rucker
The founder of GORUCK wanted to bring rucking, a hallmark of special forces training, to the masses. To ruck is to carry a weighted pack on your back, and it's become a fitness trend, with rucking challenges popping up all over the country. The Rucker looks like a normal, albeit kind of aggressively black backpack. It's built in the U.S. using some of the same materials — YKK zippers, 1000 denier cordura — used for special forces equipment. There's a compartment specially designed to carry a flat 20- or 30-lb. weight high on your back, where it's more comfortable and more efficient to carry. The 20L bag has plenty of room for a hydration bladder, jacket, and anything else you'll need, and it'll work well as a normal backpack between rucks. Save $90 when you buy it directly from the manufacturer today.
L.L. Bean Signature Men's Waxed-Canvas Maine Hunting Shoe, 10″
L.L. Bean is taking 25 percent off all orders with the code FALL25. There's a ton to choose from, including these classic boots. These aren't the half tan, half dark brown L.L. Bean boots owned by New Englander we've ever met. These are a more muted hunting shoe with a waxed canvas upper, full-grain leather trimming, and a supportive steel shank. They're handmade in Maine, and great for both traipsing through the woods and navigating the winter hazards — think slush puddles and icy sidewalks — of urban environments as well.
This article was originally published on