The iRobot Roomba Is the Best Robot Vacuum I've Ever Owned
by Donna Freydkin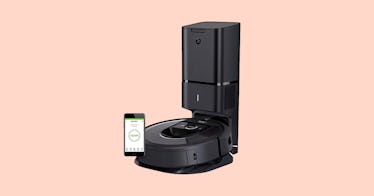 Oh, robot vacuum, how much do I love thee? So much that I have a special, secret name for my latest robot vacuum cleaner, the Roomba robot vacuum. I have tried every single model, and the newest one is by far my favorite. Why? It's quieter. It's sleeker. And it basically never gets stuck, unless it encounters my son's errant dirty sock. It's compatible with Alexa, and if the price is on the higher side for you, we're guessing we'll see some major Roomba Black Friday deals coming up, too.
Such is my fanatical quest for spotless floor that I've tried every robot vacuum on the market. Some of them did a decent-enough job, but lost power midway. Others perpetually got trapped under the same damn easy chair and could never maneuver their way out. Yet others somehow never connected to my WiFi network, rendering them useless when I wasn't home.
And then, I met the iRobot Roomba S9, the brand's newest model. It's the Pep Guardiola of robotic vacuums. Let's get the numbers out of the way first, and why the (admittedly steep) price tag is worth it. It has a three-stage cleaning system and automatically boosts suction to clean carpets. It has a special brush to dig into corners and edges. It maps your entire home, and remembers the map. And it has a filter that traps 99 percent of such lovely things as dust, mold, and pollen. Which is huge if you have pets or kids or both.
It empties on its own (yes, really), into its attached dirt disposal system. It has a super-cool mapping system that lets it glide through your house without air-hockey-pucking into the crown molding. And it's way, way quieter than its predecessors. When it's done, you get a happy, chipper update that Roomba has completed its job. Hooray!
Now, a few caveats. The docking base is huge, and it's not pretty. And like its brethren, the Roomba does sometimes get stuck in weird places. It particularly has an issue with a spot under my bench, which constantly throws it into a world of deep confusion. But all that pales in comparison to the ease of use and the amount of grime this thing lifts up. You use the app to choose how many cleaning cycles you want, where you want them to take place, and when. The app keeps you updated on the vacuum's progress.
Suffice to say, I'm floored.
Every product on Fatherly is independently selected by our editors, writers, and experts. If you click a link on our site and buy something, we may earn an affiliate commission.
This article was originally published on