The Best Remote Control Cars for Kids
We found 15 of the best stunt cars, racers, and construction vehicles kids can control from across the room.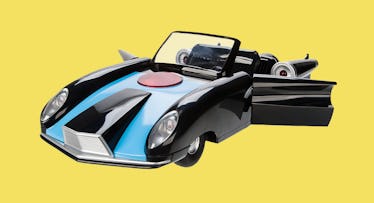 Remote control cars, which have been available since at least the mid-1960s, seem relatively primitive by today's toy standards. But that's nonsense. Today's r/c cars are smart and fun and still maintain that primitive appeal of controlling a vehicle from across the room and letting it loose on a ramp or cul-de-sac. Here, then are 15 remote control cars for kids we're genuinely psyched about.
Hot Wheels Augmoto
As a Hot Wheels track, the steeply banked curves and crash-causing intersecting loops are pretty standard, but the remote control and AR functionality set this toy apart. Kids can control the included cars with Bluetooth-enabled phones, firing virtual missiles and laying down obstacles, Mario Kart-style, to slow down their opponents.
Lego Super Heroes App-Controlled Batmobile
Once kids build this tanklike version of the Batmobile they can use their smartphone to zoom around the house. Each of the two control interfaces includes buttons to do tricks like wheelies and 270-degree turns, complete with sound effects from the speaker of the phone. And if they're involved in any high-speed crashes? No problem. Repairing this thing is as easy as snapping Lego bricks together … because it is snapping Lego bricks together.
Terrasect Remote Control Transforming Vehicle
A squeeze of the trigger button on an otherwise unremarkable remote turns this long green car into a spinning ball. Another squeeze and it uncurls back. This function can help the car right itself if you flip it on its side, and once your kid gets the hang of it they can even make it do the toy car equivalent of a headstand.
Hexbug Robotic Soccer
Bring your most epic Rocket League matches to life with an arena, miniature RC cars, and a marble-sized soccer ball. The magnetic chamber on the back of each car makes it possible to "dribble" the ball, while a button on the remote activates a flipper that slaps the ball away to a teammate or, even better, into the back of your opponent's goal.
The Incredimobile
The Incredibles movies are wonderful, and this remote-controlled toy is worthy of its cinematic inspiration. It's a solid car that comes with audio effects and lights — both headlights and a red beacon mounted to the hood — that really work.
Sharper Image Thunder Tumbler
The speciality of this RC car is spinning. It can do so with four wheels on the ground or tilted in the air and resting on the "stunt wheel," a fifth wheel that sticks out of the "trunk" of the car and facilitates other kinds of spinning shenanigans. The included LED lights look cool as this car is racing around, but they look even cooler when they blur together as it whips around like a top.
Prextex Cartoon RC Police and Race Cars
These cars are recommended for kids as young as three. The steering wheel-shaped remote controls are easy for small hands to operate, and the fact that two cars, a police car and a race car, come in each pack means racing is a foregone conclusion. There are also removable figures that fit into each sound- and siren-producing car. It's a relatively simple toy, but there's a reason this two-pack is Amazon's bestseller in the Toy RC Vehicle category.
Double E Remote Control Excavator
Of course, not all RC cars are about flash. Some, like 1:26 scale excavator, are about getting stuff done. It may not be able to dig a foundation for a real building, but this yellow and black toy does have rubber tracks, a rechargeable battery, 350-degree rotation, and independent operation of every joint, including the bucket. It can dig real holes in your backyard, but you might want to convince your kid to use it to clean up all the Legos strewn around her room.
WowWee Roboraptor
We know, we know: this thing isn't a car, but it's so awesome we had to include it. The 32-inch robotic velociraptor come with a remote control that lets you stalk or run around, but you can also connect to it using an app on your smartphone. Alternately, you can let him loose. The bionic dinosaur will walk around, its sonic and touch sensors helping it navigate within and react to its environment.
Hobby Engine Premium Log Loader
Its 1 to 14 scale mean this construction vehicle toy is more suited to loading Lincoln Logs than the real thing, but your kids probably don't have any full-size lumber to move anyways. The rechargeable battery powers the motor and working lights, letting kids pick up and move around any miniature debris they happen to find around the house.
Uttora Tornado Twister Stunt Car
The flashing lights and music are the second and third coolest things about this zippy car. The first coolest? The fact that the front axle rotates perpendicular to the ground, producing stunts kids are sure to find mesmerizing.
Sphero Ultimate Lightning McQueen
The company that brought us our favorite BB-8 toy of all time also makes a pretty great RC car in the form of Lightning McQueen, the star of the Cars franchise. It's the most emotive car on this list, with motors dedicated to moving its mouth and an LCD screen behind the windshield that lets McQueen portray emotions that match the 300+ phrases he can say. It can drive and drift at up to 6 mph with a smartphone app that also lets kids join McQueen's pit crew and direct him as a film actor.
Mattel Fast & Furious Blast & Burn Ice Charger Vehicle
This 16-inch Dodge Charger can speed around the living room and do wheelies at the touch of a button. It also comes equipped with plastic missiles kids can fire from a blaster that pops up from the top of the roof. Replace the standard tires with the included alternates and this car can drift around tight corners at high speed. And because it's based on the Fast & Furious movies, a franchise characterized by nothing if not sensory overload, there are also working lights and sounds.
Traxxas TRX-4 Scale and Trail Crawler
There's a whole separate world of hobbyist-level RC vehicles, and this 1/10 scale Land Rover is one of the coolest ones. It has a bunch of high-end features, including a two-speed transmission, aluminum shocks, and steel frame rails. This thing is even waterproof so you can drive through puddles. It's definitely pricey, but if your kid is really into RC cars it's one of the coolest models you can get.
Arrma Fazon 6S BLX
Speaking of pricey RC cars, this Arrma Typhon 6S is another higher-end vehicle that serious fans will appreciate. It has a 3 mm anodized aluminum chassis and steel driveshafts throughout for durability and a brushless motor that can make this thing roar across open fields at over 50 mph. There are even four driving modes so you can choose the one best for the driving situation you find yourself in.
This article was originally published on