Best Rechargeable Batteries and Chargers
by Donna Freydkin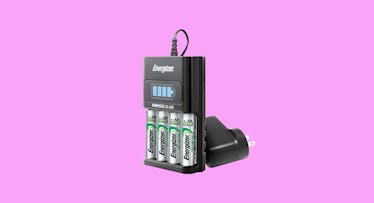 If you're a parent who lets your kids play with toys, you need rechargeable batteries.
Because we've all be there, and dealt with the ensuing meltdown when your batteries die mid-action, and you're the loser without a replacement set. Kids do not take this lightly, and neither should you. It's a wise rule that you should never get caught without enough juice. Today's rechargeable batteries are affordable enough so that you can buy many, ensuring that you'll have enough to get you where you need to go.
Plus, rechargeable batteries produce far less waste because they can be recharged with a simple charger and reused tons of times, instead of winding up in landfills. Regular batteries contain one or more of the following eight metals: cadmium, lead, zinc, manganese, nickel, silver, mercury, and lithium, as well as acids, and when you throw them out in the trash, they can leach and contaminate groundwater. Not good.
For those diving in or for those re-entering the rechargeable battery market, there are a few considerations with rechargeable batteries, the chief of which are how many charges you'll get and how long they'll last between charges. But don't fret; our guide breaks these down, balancing performance with price, gently guiding you toward the model that's best for you.
Pros: You get it all with this battery and charger set. It can handle between two and eight batteries AA or AAA, with two USB ports. Meaning you can also charge a phone.
Cons: The batteries themselves don't hold a charge long enough.
Pros: The battery charger automatically shuts off when its done and the batteries are fully charged. It has temperature and overcharge protection so the batteries don't get damaged. And it has a battery power gauge to indicate the amount of charge a battery has.
Cons: Buyers complain that the charger can be unreliable.
Pros: While Amazon doesn't confirm this, customers' sleuthing says that this is simply a relabeled Sanyo XX—but at a much more affordable price. In fact, this eight-pack averages about half the price of a similar battery from category-favorite Panasonic Eneloop. Rated officially at 2400 milliamp hours (mAh), intrepid users have measured it higher at 2500, while noting its ability to maintain its ability to charge with little falloff over its lifetime.
Cons: Our biggest ding against is the oversized nature of these AAs. Get them out of the package and you'll realize that the size is far from standard and more like a general guideline. It's hard to say whether they will or won't fit in your device (odds are they will), but you can rest assured that Amazon has a great return policy.
Pros: Rated to a solid 2000 mAh, what you really get with the brand is its recharge capacity, which is guaranteed for 2100 cycles. They're also guaranteed to fill up to a minimum 70 percent of their new capacity for 10 years, ensuring that they'll last through multiple devices. Two more things we loved: They arrive pre-charged, and they take that charge from the sun thanks to the company's solar stations in Japan.
Cons: Normally there's a cost associated with this great battery. There's not now. But unless you're willing to risk it jumping back to the MSRP of $27, you'd better snap these up with your own high-capacity energy.
Pros: The Panasonic battery charger can quickly, and individually charge any combo of up to four AA or AAA eneloop batteries in just three hours. And if you put in a disposable battery, it simply will stop the charging process. It works on any brand that's rechargeable.
Cons: There are repeated complaints that it won't charge AAA batteries.
Pros: Including eight AAs and eight AAAs, this kit is already a great value when compared to the name brands. The stated 2300 mAh for the bigger batteries and 800 mAh for the AAAs is, admittedly, smaller than its competitors, but it's a negligible amount. Other details, like included storage cases, seemed to pull reviewers and customers alike beyond the latter detail.
Cons: For those who want every drop from a single charge, that "negligible" difference in power capacity may come back to bite you. If you're engaging on long road trips with the kids, you'll appreciate other premium storage batteries for eking out an extra 15 minutes.
Pros: The largest-capacity batteries on the market, these hold a max 2550 mAh, allowing you to get more juice from every charge. They're also guaranteed for 500 cycles, allowing you to get more juice over their lifetime. Of course, the charger itself is worth noting. While you'd have to buy one anyway, the including unit is especially great. Four indicator lights show you when each battery is full, ensuring that you can rely on its performance and longevity with every use.
Cons: Adapting that famous phrase, on a long-enough timeline, the life expectancy of every battery drops to zero. One mechanically inclined Amazon reviewer pointed out that when compared to the degradation of the regular (and cheaper) Eneloop batteries, these only hold more juice for the first 250 cycles. Therefore, a choice must be made: Are you willing to pay more for a capacity advantage for the first half of their life? If not, go with a cheaper option.
Pros: Duracell spits a good game—400 charge cycles guaranteed while holding a charge for up to a year when not in use. But we would have liked some specifics about their actual power. The best we can tell is a mid-grade 2000 mAh, which is good and fine. What you're really buying is the name, which is one of the industry leaders.
Cons: Shouldn't we expect more from an industry leader? We think so. These batteries seem to lean heavily on the company's reputation, whereas other batteries live and die by their performance. The number one battery brand should have done more. Still, for their price, they'll do the job.
Pros: This battery charger is compatible with any brand, which is definitely a boon. It takes less than five hours to fully charge AA/AAA/C/D batteries, and less than 12 hours to fully charge 9V batteries. You push a button and the batteries pop out.
Cons: The construction is not all that great, meaning it can be too flimsy for some.
Pros: Another winner from a brand we love, this eneloop power pack is a four-position charger with worldwide voltage and charges from one to four AA or AAA batteries in any combination.
Cons: The batteries have low voltage, and the charging process can be slow.
Every product on Fatherly is independently selected by our editors, writers, and experts. If you click a link on our site and buy something, we may earn an affiliate commission.
This article was originally published on