12 Puzzles for Adults Who Need to Escape Reality
Because you do run out of shows to binge-watch eventually.
by Donna Freydkin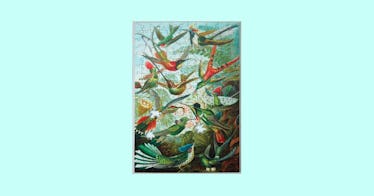 There's something so meditative about connecting interlocking pieces to form a complex jigsaw puzzle. It's calming. It's engaging. It gives your brain a workout and lets you flex your problem-solving skills. And maybe most importantly right now, puzzles help pass the time. Kids, of course, have always loved them, but puzzles for adults are making a comeback. Unlike passively bingeing Netflix (apologies, Tiger King) while guzzling a cocktail, adult puzzles have the added benefit of letting you be entertained and focused and present. Pick a puzzle based on your skill level, your interests (hummingbirds or cooking, perhaps), and how much of your time you want to devote to it. And build on. We've rounded up some of the best puzzles for adults, from the beautifully picturesque to the devilishly difficult, including jigsaws, 3D puzzles and logic-based mind-benders.
Jigsaw Puzzles
3D Puzzles
Logic Puzzles
Every product on Fatherly is independently selected by our editors, writers, and experts. If you click a link on our site and buy something, we may earn an affiliate commission.
This article was originally published on