The Best Pull-Up Bars for Every Type of Home Gym
by Sal Vaglica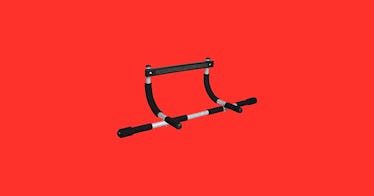 By having you pony up to the pull-up bar, as he stood nearby with a clipboard, your high school gym teacher was onto something. The pull-up might be the most effective upper body move out there. With one challenging motion you can build upper body strength—back, arms, and shoulders—and work your core. Any home workout should include a pull-up, and luckily the required gear is easy to integrate into even the smallest home gym (one that maybe now doubles as a living room).
Picking the best pull-up bar is a balance between the max weight limit you need and where you'll be mounting it. The easiest to install are the doorway pull-up bars that pop on and off the jamb. Others bolt to the ceiling or upper part of the wall. And if you have the room, a dedicated piece of equipment or free-standing pull-up bar can help you integrate some other moves into your workout. These are the six best pull-up bars for dads who want to skip the gym.
Every product on Fatherly is independently selected by our editors, writers, and experts. If you click a link on our site and buy something, we may earn an affiliate commission.
This article was originally published on