The Best Products for Fighting Summer Foot Stank
Two dermatologists share why your feet are so gross during the summer and what you can do about it.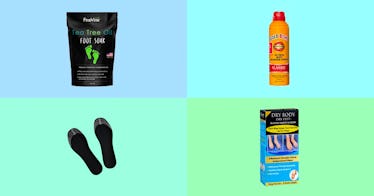 We all get sweaty feet. It happens. In fact, it's bound to happen: The average person's foot contains about 250,000 sweat glands, which can produce almost a pint of sweat in a day. And when those sweaty feet spend the better part of the day cooped up in leather shoes and stewing in cotton socks, it's not long before some seriously stinky foot odor takes over. Feet that smell bad are especially common in summer, when your feet log lots of extra miles in heat and humidity. In situations like this, foot odor products like food deodorant tend to be a great help.
"Feet contain large amounts of special sweat glands called 'eccrine' glands," say Drs. Kristina and Gary Goldenberg of Goldenberg Dermatology "These glands are important for thermoregulation — they produce sweat not in reaction to heat, but rather to local tactile stimulation or emotional stress." When your glands work overtime, you become susceptible to hyperhidrosis, a.k.a. excessive sweating. It's a condition that occurs all year round, but usually increases in summer for obvious reasons. Wearing open shoes helps. So does wearing socks with shoes. Going sock-less is a surefire way to have smelly feet.
See more: Best Men's Sandals
Are there ways to avoid sweaty feet altogether? Other than surgery, not really. But there are certainly ways to minimize it. The Drs. Goldenberg suggest avoiding things that stimulate the eccrine glands, such as drinking too much coffee. They also note that foot odor can other causes — stress, for instance, can put people at risk for a smelly fungal infection known as Tinea Pedis.
Having an arsenal of effective foot odor products to combat extra-sweaty and smelly feet is key, as, at one point or another, most of us will march our sweaty, stinky feet to the drug store desperately seeking relief. Here are the best foot odor products that can help you get rid of sweaty, smelly feet.
The Best Products For Sweaty Feet and Getting Rid of Foot Odor
Every product on Fatherly is independently selected by our editors, writers, and experts. If you click a link on our site and buy something, we may earn an affiliate commission.
This article was originally published on